'Tech' City hasn't got proper broadband and it's like BT doesn't CARE
'This doughnut is slower than a Game of Thrones RAVEN!'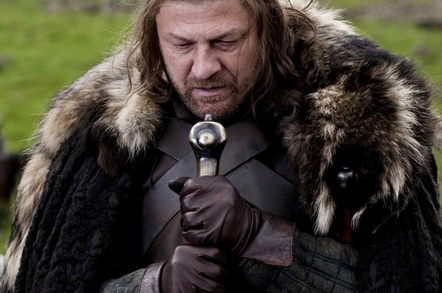 An MP has told Parliament she was left "shocked and surprised" by BT's response that it was "not commercially viable" to improve broadband access for one of 38 Tech City businesses petitioning for more reliable speeds.
In May, 38 businesses from Tech City signed a petition complaining about the slow, unreliable broadband in the area.
Emily Thornberry, MP for Islington South and Finsbury, said she subsequently took a sample case to BT, assuming the problem "would be ironed out without delay".
She said yesterday: "I was shocked and surprised when BT said that although other users in the area have high-speed broadband, it was not commercially viable for it to connect up my constituent to the green cabinet outside his premises."
Thornberry cited another small film production company in East London, which was left uploading a two-and-a-half-minute film for nine hours.
"We cannot make Tech City one of the world's great technology centres and sow the seeds of sustainable growth, as the Prime Minister has said, when it takes nine hours to upload a 2.5-minute film. Tech City should not be relying on Game of Thrones ravens [as a faster means of communication]."
Thornberry said BT should accept responsibly for installing superfast broadband to all existing cabinets in Tech City. "Aiming for 95 per cent connectivity by 2017 is not ambitious enough," she said.
BT has said the government should give it more help and that the European Union rules on state funding should be changed to allow that to happen.
But Thornberry said: "We need to look hard at BT's arguments. Is it necessary for state aid to subsidise BT? After all, Openreach generates £5bn of revenue each year."
She told Minister of Fun Ed Vaizey that broadband provision in London resembled a "doughnut" shape. "It is much easier in outer London than in the centre, and a great deal of work is being done to expose that. I hope that he remains on top of that issue, because as the picture is established, it will become clear that government intervention is necessary."
Vaizey said progress is being made in the area. "BT's copper network is managed by Openreach, which is part of BT, and it is open to competition — what is known as local loop unbundling.
"That means that other operators, such as TalkTalk and Sky, can make a retail offer to residential customers and indeed to businesses that want to use, as it were, a consumer service. That has helped us to drive down the price of broadband. Indeed, those other operators are able to put their own electronics into cabinets." ®
Update
Since the publication of this story, BT provided the Reg with the following statement:
Ultrafast high-capacity broadband services are available throughout the whole of Tech City and government grants are available to businesses which want them. The prices for these services are set to fall from this April with the wholesale installation charge for our 1Gbps service falling by 46 per cent to cite just one example. These dedicated business lines are likely to be needed by any business with sizable digital demands. Domestic level fibre broadband is available to around two-thirds of premises in Tech City. Plans are in place to extend this to 90 per cent.
Sponsored: Detecting cyber attacks as a small to medium business