Twin Adam Sandlers shake El Reg's movie unwatchablathon team
Jack and Jill screening ends in traumatised dash for wine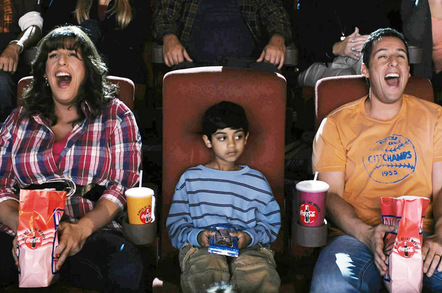 We recently and somewhat recklessly announced that we'd be eyeballing Gigli, Pearl Harbor and Battlefield Earth back-to-back, in an epic "unwatchablathon" designed to determine just how much cinematic drivel the human mind can handle in one sitting.
Our beloved readers are to blame for prompting this audacious experiment, having debated whether John Travolta's Scientologotastic epic or the onscreen non-magic of Jennifer Lopez and Ben Affleck truly qualified as unwatchable wastes of perfectly good celluloid.
Naturally, there were plenty more suggestions thrown into the festering pot of artistic fail, including a couple of heads-ups for the inimitable Adam Sandler.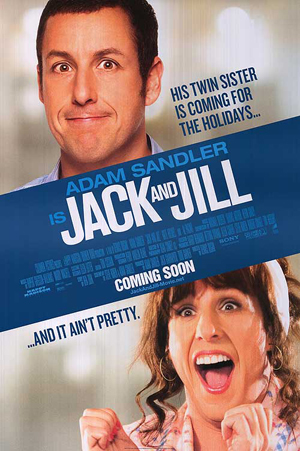 Co-incidentally, the comedy giant's Jack and Jill surfaced on the telly on Sunday night, so we reckoned it'd be a good opportunity to get in some light training before the big event.
The experience can be summarised thus: At the end of the film, my nephew Matt Haines rose silently from the sofa, took two bottles of wine from the kitchen and locked himself in his room for 16 hours, emerging only to relieve the chez Haines wine cellar of a couple more litres of plonk.
When later pressed for a critique of the masterwork, he simply said: "I don't want to talk about it. Where's the bottle opener?"
Which is fair enough, to be honest, because if you haven't yet seen Jack and Jill, we cannot warn you strongly enough to avoid it by whatever means necessary.
To give some idea of the hideous depths this movie plumbs, we refer you to its clean sweep of the 32nd Razzies, where Sandler deservedly picked up both Worst Actor and Worst Actress awards, and the "twaddle-fest" was furthered honoured with Worst Picture, Worst Supporting Actor (Al Pacino), Worst Supporting Actress (David Spade as "Monica"), Worst Screen Ensemble (The Entire Cast of Jack and Jill), Worst Director (Dennis Dugan), Worst Remake, Rip-Off or Sequel (for its debt to Glen or Glenda), Worst Screen Couple (Adam Sandler and EITHER Katie Holmes, Al Pacino OR Adam Sandler) and Worst Screenplay (Steve Koren and Adam Sandler).
And if that doesn't convince you to give Jack and Jill an enormously wide berth, then enjoy New York Post critic Lou Lumenick's shoeing, which kicks off with:
"Burn this. All copies must be destroyed. No good."

Al Pacino is reacting after watching his cringe-worthy song-and-dance number at the end of Jack and Jill, but this harsh assessment could easily be applied to the entirety of this gruesomely unfunny Adam Sandler vehicle.
So, you're wondering, will Sunday's traumatic viewing effect our unwatchablathon plans? Of course not, although Matt declared: "If I'm going to watch that shit I'll need a whole load more wine. And whiskey. And Class A drugs."
Watch this space... ®
Sponsored: Becoming a Pragmatic Security Leader