CHAINSAW HORROR advert earns GiffGaff a slap from regulator
Clowns, zombies and crazed lumberjack terrified tiny tots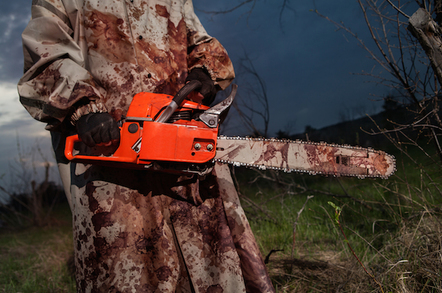 GiffGaff has been slapped for a second time by the UK's advertising regulator, this time for scaring kids with its YouTube advert depicting a woman screaming in terror while being pursued by a chainsaw-wielding maniac.
After yelling "Someone please help me" a stream of other screaming characters appeared in its ad last year, including a clown, a zombie, a pumpkin head, a doll holding a blow torch, a ghost and a man with an upside down head.
The ad then descended into a horror parody with the characters turning into a mock choir.
But one viewer, whose child had seen it before a programme for youngsters, was not amused and complained that it had been inappropriately targeted.
The UK MVNO said it had been targeted at YouTube subscribers over 18 and who were signed into their accounts. It also said it was only made available to account holders who had searched for, or were watching, similar content.
However, the Advertising Standards Authority (ASA) ruled the targeting was not appropriate because the ad was played before a programme of interest to very young viewers.
It said:
While the account holder was over 18, the content of the programme in which the ad was seen was unlikely to be of interest to them and any over 18s watching were likely to be doing so in order to accompany young children.

While we recognised GiffGaff's efforts to target the ad to over 18s, and understood that it had used YouTube's targeting filters to their full extent, we considered that, ultimately, it had not been targeted appropriately and was therefore in breach of the CAP [Committee of Advertising Practice] Code.
The ASA told GiffGaff to ensure that future ads were targeted appropriately.
This is not the first time GiffGaff has fallen foul of the ASA for inappropriate ads. In November the company was admonished by the regulator for featuring a sexually graphic video on Twitter that was deemed "likely to cause serious or widespread offence". GiffGaff was told that ad must not appear again in its current form. ®
Sponsored: Your Guide to Becoming Truly Data-Driven with Unrivalled Data Analytics Performance