Win! The Ultimate Cash 'n' Carrion Survival Kit
A little El Reg merchandise for those cold server room nights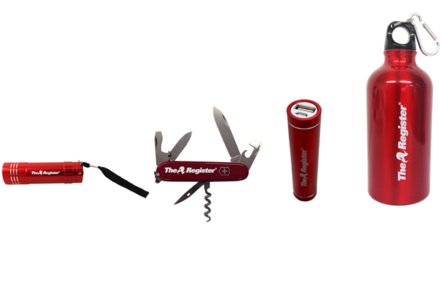 Competition Roll up! Roll up! Here is your chance to win a Cash 'n' Carrion Server Room Survival Kit. Each package is worth 48 Great British Pounds, and we have three to give away.
To enter point your browser here.
You can see this lineup of goods in the image above, and find more Reg Merchandise here.
The Survival Kit includes:
Classic Reg branded 9 LED torch
Classic Reg branded 500ml water bottle, with screw top and carabiner/keyring
Classic Reg branded Victorinox Swiss Army Knife with large blade, small blade, corkscrew bottle opener, can opener, small screwdriver, bottle opener, large screwdriver, wire stripper, reamer and punch and sewing tool, keyring, tweezers and toothpick.
Classic Reg branded power bank phone charger with 2200mAh unit via standard or mini USB
Register here in our prize draw — for your chance to win this grouping of Cash 'n' Carrion goodness.
To enter you will need to sign-in (or create) a Reg account to enter, but is otherwise open to the entire world.
The draw will close on Midnight GMT, Tuesday 17 February 2015, and we will contact the winner by email shortly afterwards.