Alarming situations
Now, because the Pop itself shows my steps clearly, I'm not too bothered about recording the stats – I'm not out to take quantified selfies. But I can't turn off the irritating alarm, which vibrates the watch 12 times to stir the heaviest of sleepers. It's fierce: leave it on table and it'll wake anyone else in the room too, typically after the first or second buzz.
Unfortunately, with Bluetooth and/or app not working smoothly, I can't disable it permanently, and Withings provides no way to turn it off when it's sounding. Though a double-tap on the watch itself causes the hands to briefly move and display the current alarm time.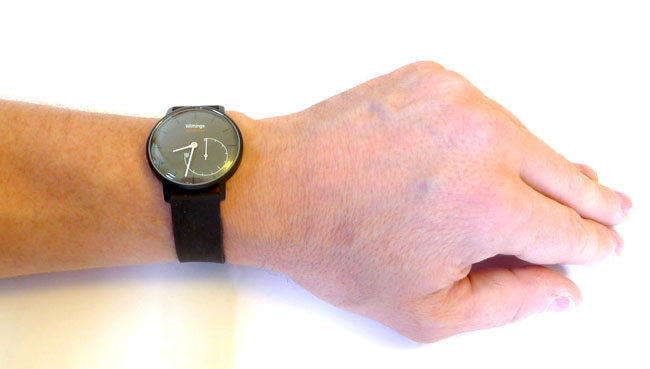 On the face of it, just the right size for any adult
Likewise, I couldn't test the Pop's sleep monitoring because the watch can't show the results, only the app can. And the app wasn't grabbing the data. That said, I'm not sure I really want to wear a watch to bed, especially since the hands are not luminous so are invisible in the dark.
One of the strengths of the Pop is the use of a coin cell rather than a rechargeable battery. Yes that's wasteful and costs more long term, but it means you don't have to root around for a charge every week, and Withings didn't have to bulk up the Pop with a charging mechanism. Maintaining an alarm you can't turn off will counter the battery life – which Withings puts at eight months – as will syncing your watch and app too frequently.
The Reg Verdict
Withings' Activité Pop is a likeable product. It's not as attractive as the original Activité but is a good deal cheaper (£120 to £320) and not much more pricey than most dedicated activity trackers, especially given that it's a decent-looking watch too.
Its styling won't be to everyone's taste, of course, but it does mean you only need one wearable for time and tracking if you're the sort of bod who wants both functions. I like the very granular step counter. I like the use of a coin cell power source. I don't like the flaky connectivity. ®
Sponsored: Ransomware has gone nuclear

Strap on fitness finesse: Withings Activité Pop
Stylish combo wristwatch and activity tracker with companion app