Shareholders pen outraged letter about Ellison's bulging package
Plus the Board never pays attention to us, SEC told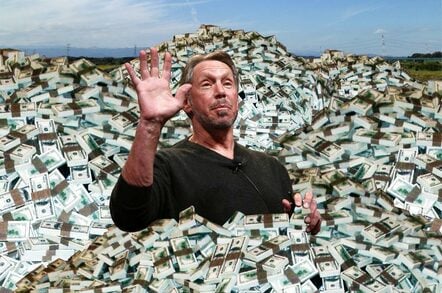 Oracle and its founder Larry Ellison are facing fresh calls from shareholders to change the company's high compensation structure for executives, and stop ignoring requests to communicate with directors.
Dutch and UK shareholder groups PGGM and Railways Pension Trustee Company Limited have more than 2.8 million members and $238bn (£159bn) in assets under management.
In a joint letter, the groups wrote that Ellison's 26 per cent share in the company poses a risk that the interests of insiders are being "put before those of the broader shareholder base".
The groups have previously claimed that the vast majority of independent shareholders have voted against executives' pay awards.
Last year Ellison took a slight cut of 15 per cent in his compensation package, bagging a measly $67.3m (£45m).
In its letter filed to US Securities and Exchange Commission (PDF) regulator Monday, the shareholders wrote that the advisory vote on compensation has been defeated for three consecutive years.
Over the past four years, PGGM and Railpen have together written several letters to Oracle voicing their governance concerns. "Despite numerous attempts over this period, no meeting with any director has been forthcoming," it said.
In November 2014 the groups' representatives travelled to the company's headquarters and attended the Oracle Corporation annual shareholders' meeting seeking to address the directors in person.
"Our request for dialogue was turned down and it appeared our earlier letters were never received by the board. In our opinion, there is an untenable barrier in the ability of shareholders to communicate directly with the board," it said.
The letter was co-signed by Else Bos, chief executive of PGGM and Chris Hitchen, chief executive of Railways Pension Trustee Company Limited.
El Reg has contacted Oracle for a comment and awaits a reply. ®
Sponsored: Becoming a Pragmatic Security Leader