ULLtraDIMM dam plus inventory oops smacks SanDisk's Q4 growth
Customer departure didn't help either
+Comment The expansion of SanDisk's business nearly stopped in its latest quarter, with revenue growth stalled and profits down as it lost a major customer, experienced troubles in its supply chain and the ULLtraDIMM injunction took hold. Just a temporary setback guys, nothing to see here, move along folks.
The consumer and enterprise flash product shipper made just $202m net profit in the fourth quarter of 2014; it was $263m in the third quarter and a chunky $338m a year ago.
Revenues of $1.74bn were less than the third quarter's $1.75bn, one per cent down, and just a tiny bit ahead of the year-ago quarter's $1.73bn.
The full 2014 year revenue was $6.63bn, ahead of 2013's $6.17bn, the fourth quarter slump not being that bad, while full-year net income was $1.29bn, compared with $1bn in 2013.
What went wrong? It should have been a $1.83bn quarter based on previous trends. Where did that $90m of expected revenue go?
CEO and prez Sanjay Mehrotra attributed it to chip supply problems in the announcement release: "We are disappointed with our fourth quarter results, which were impacted primarily by supply constraints. We believe that NAND flash industry fundamentals are healthy, and we expect our financial results to improve as we move through 2015."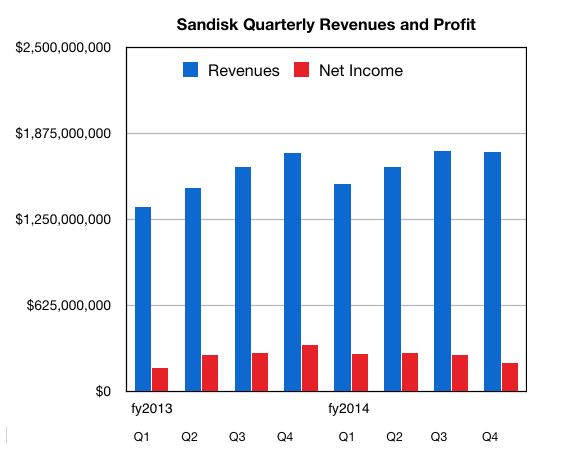 Chart showing SanDisk's 2014 Q4 revenue slump
He elaborated in prepared remarks for the earnings call: "Our inventory levels were extremely lean exiting the third quarter and were anticipated to become even leaner throughout the fourth quarter. We overestimated our ability to service our customers' demand variability with our low levels of inventory, creating supply shortfalls in certain products."
Sponsored: Becoming a Pragmatic Security Leader