Nimble CEO lifts lid on sales veep saga. It ain't pretty
Mann down
Nimble Storage and Eric Mann, its now ex-senior vice president for worldwide sales, parted ways because of travel overload and an exec team misfit, at least according to the company's CEO.
Hybrid array vendor Nimble attended a Needham investor conference last week. A listen to the webcast of the conference reveals that Mann's hire was seemingly botched from the start. He found the job too intense, according to analyst haus Stifel Nicolaus' MD, Aaron Rakers, who attended the conference.
The background was that Mike Munoz, the prior sales veep, had to take a long leave of absence in October 2014 due to emergency family medical issues. Nimble, based in San Jose, CA, spotted that NetApp's ex-SVP for Americas sales, Eric Mann, had resigned in July and was available to hire.
Suresh Vasudevsan, Nimble CEO, is an ex-NetApp man himself, and said in the webcast: "There are many [people] in our team that have come from large companies. I was at NetApp prior to this and so many have adjusted."
There was apparently no search process: "Eric was an opportunistic hire – perfect credentials – when Mike left. We didn't go through a search."
The credentials turned out to be not enough for Nimble, with Vasudevan claiming: "[Eric] didn't integrate fully with the execution on any dimension and within about five or six weeks it became clear that there were organisational fit concerns … a couple of things became evident both of which pointed at the lack of fit."
The Register has tried to contact Mann numerous times over several days through a number of different media to seek his views on Vasudevan's statements. At the time of publication, Mann had not responded to any of our queries.
What were those organisational fit concerns? Vasudevan said: "As a company operating out of the west coast and having someone join the executive team we are yet small enough [and] at a stage where we are tightly integrated as a cross-functional team."
West coast? Why was that an issue? Seemingly it was because Mann lives on the east coast. Vasudevan said: "He would have to come almost every other week to California besides travelling all over [the world] – a degree of travel that was more than he had anticipated."
There was another reason, according to the Nimble CEO: "The other part of the reason, candidly, was that there's a pace that we set as a small company that's growing quickly and the pace has to be perforce extremely aggressive and that pace was not comfortable… there's a personality fit that did not work out for the pace we were operating at."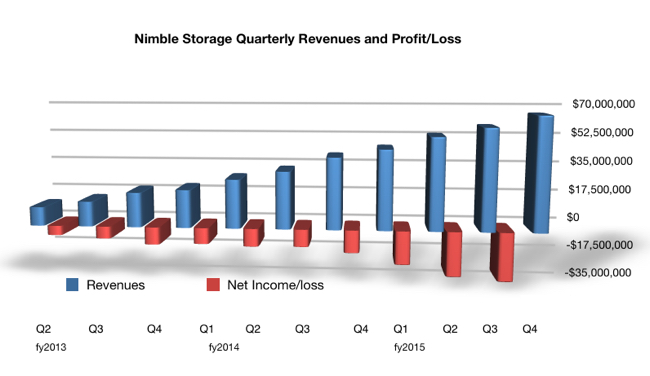 Nimble quarterly results and profit/loss. Latest quarter revenue is estimated
Nimble recruited an exec to the crucial worldwide VP head of sales role who lived 2,500 miles away from the office in a different time zone, to be part of a tight-knit, cross-functional team, when his location obviously mitigated against that.
Secondly, Mann's work style and/or personality did not, apparently, fit this team.
And thirdly, Nimble did not want a permanent replacement for Munoz, as he was on leave and had not resigned.
Comment
Well, golly gee. Here's a clear-cut example of exactly why companies should use an exec recruitment outfit and not hire a senior exec without a rigorous process. As a result Nimble and its CEO looks sloppy and a tad careless, with Mann putting his head in a noose and then realising the rope was too tight. It'll all be forgotten in a few months.
Meanwhile, Vasudevan said Nimble is growing strongly. Repeat purchase levels were high – 38 per cent of all purchases in the 12 months to the end of its first quarter. Win rates against mainstream and new entrant array vendors were good. New customer acquisition rates were accelerating and the customer count was around 4,300 at the end of the first quarter.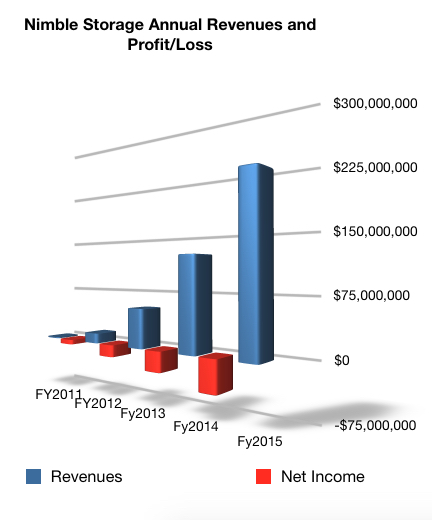 Nimble annual results with estimated FY 2015. A half billion dollar revenue in fy2016 is possible.
Recently added Fibre Channel connectivity should positively impact revenues next quarter or the next one along from that. So long as Nimble doesn't lose sales momentum, such as adding too few reselling partners outside the USA, things look rosy with break-even coming in a few quarters and GAAP profitability in, we think, fiscal 2017, possibly earlier. ®
Sponsored: Becoming a Pragmatic Security Leader