FORCE Apple to support BlackBerry hardware, demands John Chen
Net neutrality bandwagon, meet spasming mobe-maker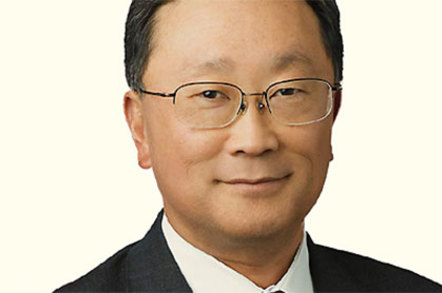 In a blog post on the BlackBerry website, CEO John Chen has called on regulators to force Apple and Netflix to support Blackberry hardware, claiming this forms part of the ongoing net neutrality debate.
He argues that because BlackBerry has the eyes, ears and fingers of the most important people in the world – thanks to its secure environment – the company understands net neutrality.
As net neutrality is about equal access to information and services, the apps which are necessary to access that information and those services should be universally available, Chen argues:
Policymakers should demand openness not just at the traffic/transport layer, but also at the content/applications layer of the ecosystem. Banning carriers from discriminating but allowing content and applications providers to continue doing so will solve nothing.
He wants Netflix to support Blackberry hardware with streaming and Apple to port iMessage to Blackberry and Android but doesn't mention Windows Phone. Chen argues that a world where there are only two mobile ecosystems is not a good one and cites the laws under which mobile networks have to give unfettered access as being applicable.
It's a turnaround for a company which used to guard its proprietary systems so jealously. Yet Chen then says: "The company has stabilized and introduced a variety of new products as we pivot away from our prior reliance on hardware to become a full-service, device-agnostic provider of highly secure and productive software and services."
So he wants Apple and Netflix apps and services to mimic the business model that he's moved to. It starts to sound a little born-again.
Chen doesn't go into any detail on how big and important an app needs to be for US lawmakers to mandate that it runs on other operating systems. Nor does he say which operating systems are worthy of the attention which means apps have to be ported to them. One would assume that Chen considers BBM is an important app, so we'll wait to see it ported to WebOS, Firefox and Sailfish. ®