How do you solve a problem like Willowra?
Wanted: vibration-tolerant, carry-on network swiss army knife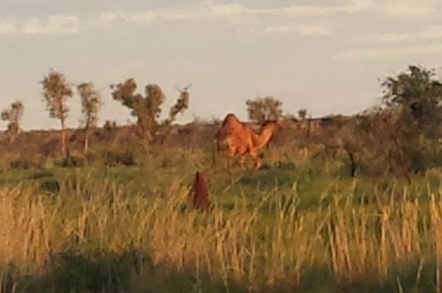 One of the things we've had to consider as we plot our return to Willowra, and our mission to improve the performance of the network in the Wirliyajarrayi Learning Centre, is what kind of hardware to use.
If you're coming in late to this tale, the learning centre offers the first publicly-acessible, internet-connected PCs in the remote aboriginal community of Willowra in central Australia.
When we first visited Willowra we found that the internet connection makes a big difference in a lot of ways, not least because going online is so convenient and fun that locals with marginal literacy skills push themselves every time they sit down at a PC.
But because of some network design decisions at the centre, and its use of a satellite internet connection, downloads are very slow. We'd like to change that to help out the community, and also because it sounds like a fun project for us - and you - to work on.
Our thinking is that improving network performance will require a central source of Windows updates. Some kind of WAN optimisation looks like a good idea and so does local caching. Content filtering looks like it'll be needed, too.
There's a few other things to consider:
The road to Willowra is navigable, but four-wheel drive is recommended;
Whatever we use needs to be small, because if a replacement is needed it needs to get on the weekly mail plane without costing a bomb;
Small is also good because if we can get kit on the mail plane, it means techs can talk locals through any changes rather than having to make the tricky drive to Willowra, which requires an overnight stay;
Exotic technology is bad: the pool of talent in the nearest sizable town isn't extensive;
Simple is good: there are no techies in Willowra. A row of blinkenlights is too much UI.
Those requirements got the Vulture South team thinking a small x86 box ought to do the job. And as it happens we've been able to get our hands on a couple of Intel Next Unit of Computing micro-PCs as testbeds. Intel tossed them our way after we explained what we want to do on our next trip, and also decided to sponsor those efforts.
The NUC form factor appeals no matter who makes the device: it's small and light enough we can chuck a couple in a carry-on bag, reasonably-priced, intended for duty in spots beyond the desktop and likely to be easy enough for Alice Springs resellers to get their hands on.
We're not sure the NUCs will have the grunt to handle the handful of tasks we think our network optimiser will need to perform, but we'll soon find out once we get to work.
In the meanwhile, the good news is that flood waters have gone down enough that our contact in Willowra will be back there soon. Once he gets there, we'll be able to do some detailed exploration of just how traffic gets from Willowra to the world, which will help us to understand just what we need to build into the box. ®
Sponsored: Becoming a Pragmatic Security Leader