Behold our swollen sales digits, crow Microsoft enterprise partners
Profits harder to come by for some...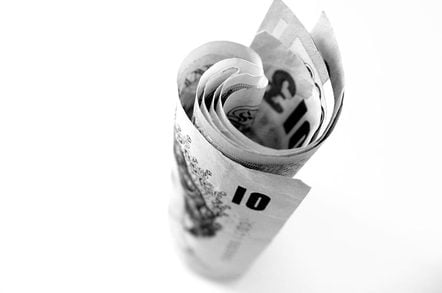 The financials for a bunch of Microsoft's top table enterprise licensing channel partners are in, and though none of them are getting rich quickly, there's seems room enough in straight reselling to make a living.
York-based Software Box (SBL) toasted its 25 years of life by bringing home £128.1m in sales for the 12 months ended 31 August, up a whopping 14.2 per cent on the corresponding prior year period.
Despite the top-line hike, a jump in the cost of sales and admin expenses dampened operating and net profits, which came in at £2.6m and £2.1m, down 8.4 and 5.4 per cent respectively.
Operating overheads went up due to an "increase in salary and other payroll costs attributed to the increase in headcount", from 94 to 101, the company revealed.
One of the highlights for fiscal '14 saw SBL, a Microsoft Licensing Solutions Partner, renew a 36-month Enterprise Agreement with the MoD covering 180k seats for £15m a year.
In addition to dark arts in software reselling, SBL also peddles Cisco, Dell and HP amongst others. It, and the rest of the LSPs, were hit in 2013 by Microsoft overhauling the fees it paid out on sales to the very largest commercial and public sector customers.
Microsoft apportioned more money for mid-market sales but here the partners have to run faster – fewer seats available – and still make relatively less.
Rival York-based Microsoft LSP Phoenix Software said it maintained share of the UK's enterprise licensing sector but continued to expand in software asset management and service new technologies.
"In order to help achieve these objectives the company has invested in additional heads mainly in customer facing selling and delivery roles and in business development," the company stated in a strategic report with the P&L accounts.
Sales for the year to 31 October were £87.2m versus £83.8m in the previous year, but falling distribution costs and admin expenses boosted net profit to £4.2m, up nearly 6.6 per cent year-on-year.
Phoenix, which invested nearly half a million pounds into R&D during the year, employed 133 people in the year, up from 123. After the fiscal closed, it hired industry vet Johnny Ellis as sales and marketing director.
The smallest of the LSPs to post numbers recently was Harrow-on-the-Hill-based Comparex, formerly PC Ware, which pushed up turnover 22 per cent year-on-year to £31.7m for the year to 31 March 2014.
But this came at a cost as gross margin tumbled 2.5 per cent to 12 per cent, "reflecting the competitive nature" of software reselling. A hike in tax and interest charges hit net profit, which was £309k compared to £370k in fiscal '13.
Mike Chambers, UK director of the German-owned organisation, said in a director's report that he was "satisfied" with the results. ®
Sponsored: Minds Mastering Machines - Call for papers now open