Alabama tops US teacher-pupil sex league
Kentucky, Louisiana, Mississippi and Vermont also right up there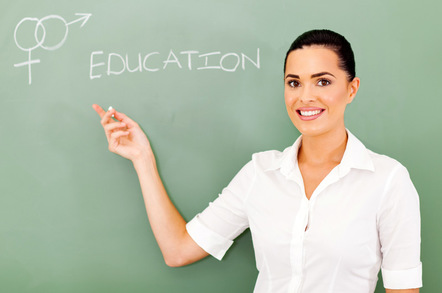 Alabama sits proudly at the top of the US teacher-pupil sex league, with one school employee per 193,975 residents being "accused or convicted" of engaging in illicit relations with a student during 2014.
That's according to a enlightening study by Terry Abbott - "a former chief of staff of the U.S. Department of Education" - whose team trawled the media for "every available report of teacher-student sex nationwide".
They demonstrated that of 781 such cases last year, 25 occurred in the Yellowhammer State, which boasts a population of roughly 4.85 million.
Kentucky, Louisiana, Mississippi and Vermont complete Abbot's top five, but if the figures are viewed on sheer weight of numbers alone, rather than an "outrage per capita" basis, then Texas actually tops the chart on points, clocking up 116 of the 781 cases.
In fact, the figures are skewed by local law. The Al.com report notes: "Alabama Act 2010-497 makes it illegal for any school employee to have a sexual relationship with a student younger than 19. In Wyoming, as long as the student is 16 or older and consents to the relationship, it's not a crime. In Michigan, all such relationships are illegal, regardless of the student's age."
Abbot said: "In a state where it's not against the law for a teacher to have a relationship with a student of a certain age, obviously you wouldn't have as many of those cases reported because it's not a crime."
Well quite. Abbot admitted his findings are "not a scientific report", the data being "only as good as the media sources we get it from".
His interest in the matter partially stems from the fact he has two daughters still living in Alabama, and a teenage son attending a public school in Texas.
Regarding the prospect of his daughters' future offspring being exposed to the Alabama education system, he said: "I want my grandchildren, one of these days, to be safe in Alabama's classrooms. I think we have to be aware that, as many great teachers as there are in Alabama, we've seen that there are still sexual predators in our classrooms, preying on our children." ®
Bootnote
A quick trawl of our own archives reveals that Ohio is the stand-out state for sex with inanimate objects, with Tennessee holding its own in second place.
Sponsored: What next after Netezza?