Uber BLOCKS COPS to stop stings
Australian transport regulators' Uber accounts have been locked out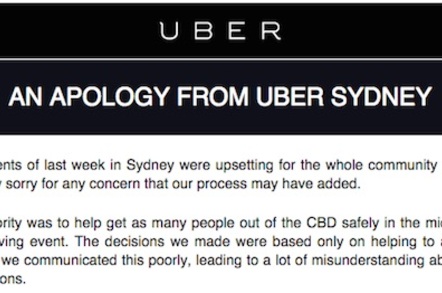 UberX is illegal in most Australian States, as legislation insists that those who take you for a paid ride must hold a taxi driver's license and drive you in a licensed taxi. Authorities are therefore trying to find UberX drivers and fine them.
The Australian Broadcasting Corporation's 730 program now alleges that Uber is fighting back by identifying phones and accounts used by transport inspectors and blocking their accounts.
730 accessed emails sent by officers from the State of Queensland's Department of Transport and Main Roads saying Uber locked phones "... due to penalty infringement notices being issued yesterday." The Department bought new phones, arranged new credit cards and set up new Uber accounts to continue its efforts, but those were again blocked by Uber. The Department now seems to have decided to pursue other means of enforcing the state's laws.
The program quotes an Uber staffer responding to the Department's query about the block and saying "I can see that our system has picked up unusual activity linked to this account. It's currently under investigation and will remain banned until we get to the bottom of it."
The taxi industry knows how to play politics in Australia and is a frequent source of political donations, so authorities' actions against Uber are to be expected.
And Uber? It just carries on doing what it does, arguing that incumbents don't deserve protection from new market entrants. that punters are voting with their (tired) feet and that Australian legislators should therefore drag themselves into the twenty-first century and make UberX legal. ®
Sponsored: Practical tips for Office 365 tenant-to-tenant migration