Speaking in Tech: Amazon Fire Phone – 'insanity' but 'genius'
Combating the 'awful' tech industry wherever we find it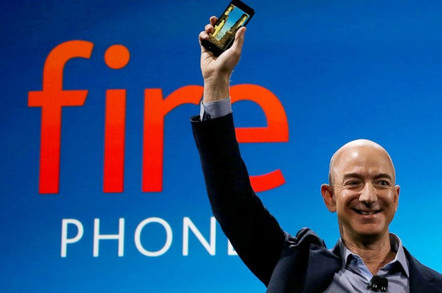 Podcast

This episode of El Reg's techcast is hosted by the whole gang: Greg Knieriemen, Ed Saipetch, and Sarah Vela. Our special guest for this episode is Nick Weaver, Director of Intel SDI Labs at Intel.
This week the crew chews on three big topics. Firstly, is Amazon's Fire Phone suffering from branding and technology issues, particularly with regard to the device's complex Dynamic Perspective technology.
Secondly, the still loss-making Box (offering cloud software for file sharing and collaboration) is finally ready for an IPO. However, will it ever be able to generate enough revenue to cover losses, and is this move merely a "cheap and dirty" exit for some of the early investors?
And finally, there's a "hackerthon for awfulness" planned (actually, it's just called 'Don't Be Awful' and lasts 24 hours straight) and intended to make the tech industry less awful. Who said it was anyway?
This week we discuss ... (indexed times below)
(1:00) Sarah's Virtualisation Field Day
(3:10) Bezos burns the Fire Phone
(7:10) Less than Dynamic Perspective
(11:12) Box announces IPO
(14:00) Cheap and dirty exit
(17:20) Awful to not be awful
(27:47) Nick Weaver from Intel
(31:02) Intel as a software company
(37:54) Leading by example
Listen with the Reg player below, or download the episode here. ®
Podcast Subscriber Links
Subscribe through iTunes
Subscribe through Google
Subscribe through Stitcher
Feed URL for other podcast tools – Juice, Zune, et cetera: http://nekkidtech.libsyn.com/rss