TERROR in SPACE: ISS 'NAUTS FLEE 'gas leak' to Russian module
Likely a 'false indication' – mission control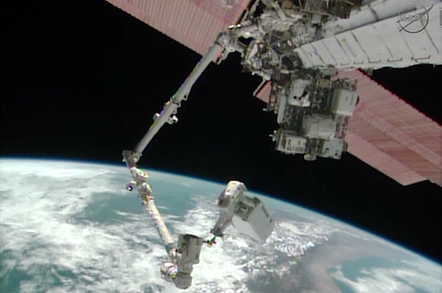 Updated The US section of the International Space Station has been evacuated due to the detection of "harmful emissions".
The Russian Federal Space agency said a leak from the cooling system took place around 11.44 MSK (7:44 GMT). "Currently, the US segment of the ISS is isolated, the crew is safe and is located on the Russian segment. The concentration of pollutants in the atmosphere of the Russian segment of the ISS is within acceptable values," it said.
"Safety of the crew has been achieved through the coordinated and timely actions [of] cosmonauts and astronauts," said head of Russian mission control Maxim Matyushin.
The station is split into two sectors: the Russian segment and the United States segment.
Reports originally suggested that the leak consisted of ammonia, but NASA has since said on its live update: "There is no firm indication of an ammonia leak."
"ISS flight controllers are not sure if the alarm was triggered by a pressure spike, a faulty sensor, or a problem in a computer relay box," it tweeted.
Chris Hadfield, a tweet-happy 'naut who has previously been on the ISS, said: "Ammonia is used for cooling through pipes & heat exchangers on the outside of Station. If it breaks through inside it is 1 of the big 3."
American mission control told crew that it was working on the assumption that the alarm was a "false indication." But it said it was unlikely the crew would be allowed to reopen the hatch to re enter the US segment today, as it needs time to confirm whether it was definitely a false alarm. ®
Sponsored: Detecting cyber attacks as a small to medium business