Samsung's first Tizen smartphone is HERE ... by which we mean India
Phones 'just the tip of the iceberg,' Sammy says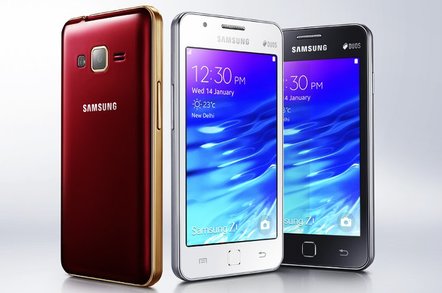 The first commercially available phone running Samsung's Linux-based Tizen mobile OS has finally launched in India, and proud papa Sammy says this is only the beginning for Tizen in 2015.
We've been hearing rumblings about the Samsung Z1 for months now, but actually finding a market for the device has proved difficult for the Korean firm.
Samsung's first batch of carrier partners, including Orange and NTT DoCoMo, all pulled out following repeated software delays. Then we were told to expect a Tizen phone to launch at a developer event in Moscow, but that never happened and Samsung never explained why not.
But this time the launch is really going forward, and Samsung says the Z1 should appeal to "millions of potential users in India."
The device's stats, which were detailed in a blog post on Wednesday, jibe with what had been announced earlier. The Z1 features a 1.2GHz dual-core processor, a four-inch 480-by-800 pixel screen, 768MB of RAM, and 4GB of onboard storage, and it runs Tizen 2.3.
Samsung says it has also loaded up the Z1 with features aimed directly at Indian consumers.
"The smartphone market in India is rapidly evolving, with many consumers using their device as their screen of choice for content including videos, television programs and video games, as well as a range of apps," said Samsung India president Hyun Chil Hong. "We have customized the Samsung Z1 to meet these unique, entertainment-focused needs of local Indian consumers for a personal and reliable mobile experience."
Samsung will offer Z1 users free access to premium content via its Club Samsung service, and it will also launch a new entertainment package called "Joy Box" that will offer free access to music, TV, and movies.
In addition, Samsung has partnered with streaming media companies Box TV, Hungama.com, and nexGTv to offer three free months of their respective services to new Z1 buyers.
One other interesting Z1 feature is the "send help" function. Push the power button four times and the Z1 will send a canned help message to your primary contacts and provide location tracking information to help assistance reach you.
The Samsung Z1 will go on sale in India beginning on Wednesday at a price of 5,700 rupees ($92) and will be available in black, white, and "wine red."
What's more, Samsung says the Z1 launch is only "the tip of the iceberg" for what it has planned for Tizen in the coming year.
"In 2015, Samsung Electronics will be introducing a flood of devices running the Tizen (pronounced 'tie-zen') operating system," the chaebol said in a blog post. "Tizen has already featured in our wearables and cameras, and will feature prominently in most of our smart appliances and all of our Smart TVs throughout 2015."
At the Consumer Electronics Show (CES) in Las Vegas last week, Samsung announced that all devices it builds will be online as part of the so-called Internet of Things (IoT) within the next five years. Many of these gadgets will run Tizen, the company said on Wednesday, which it said offers such benefits as "shorter boot time, faster web browsing and seamless multitasking, all the while enjoying longer battery life."
Samsung said it will also continue its developer outreach programs to help build a vibrant ecosystem around Tizen, although no Tizen developer events have been scheduled so far for 2015. ®