Shrinking tape, dedupe dumps... PAH! Just scale up scale-out – Quantum
Shifts 60% more StorNext-type tech
StorNext scale-out storage is now a bigger business for Quantum than its deduplicating disk arrays.
Quantum's preliminary third fiscal 2015 quarter results show revenues below guidance at $142m but profits as predicted at $7m as it manages its shrinking tape automation business well.
The OEM tape automation business shrank 31 per cent compared to the year-ago quarter – ouch. However, overall revenues were down just 2.7 per cent. There was a $2.4m loss a year ago, so today's profit is a nice turnaround.
DXI deduplicating disk array-based revenues were up $1m to $24m. Scale-out storage-based revenues (StorNext, etc) grew a whopping 60 per cent to $27m.
Prez and CEO Jon Gacek's prepared remarks said: "GAAP net income was the highest in more than five years as we continued to capitalise on the strategic improvements we've made over the last 18 months and drive further operational efficiencies throughout the business."
He mentioned "the tremendous market momentum our scale-out storage solutions continue to achieve. … scale-out storage revenue in the first three quarters of our fiscal year grew nearly 60 per cent over the comparable period the year before. In addition, we had our second consecutive quarter of year-over-year growth in DXi revenue."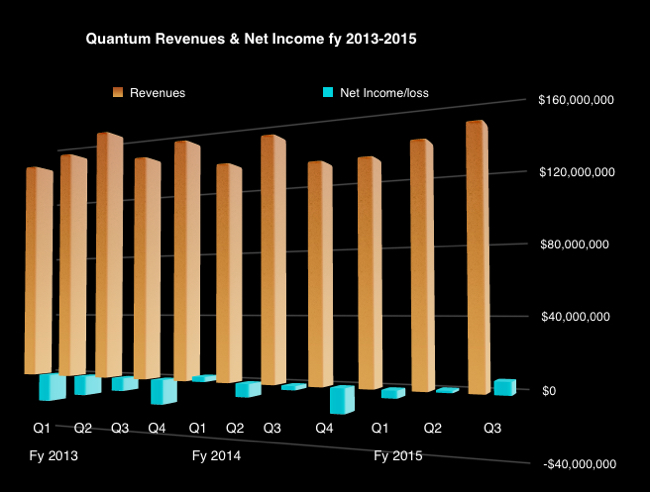 The chart for the period fiscal 2013 to the present shows choppy revenues changing to smoothly growing ones as Gacek and his team even out the business' earnings in the face of relentless OEM tape automation revenue declines and grow the newer disk and software-focused product revenues.
The business is smaller than it was in fiscal 2014, and has been shrinking since the $1bn revenue seen in fiscal 2007. But the tide has turned, spring has come - choose your own metaphor. We must expect the fourth quarter results to be lower than this quarter's; that's the seasonal tradition in Quantum's business.
You get the feeling that there's wind in Quantum's sails and that the exec team is looking outwards more than inwards, so to speak. The cloud and Big Data and building out from its entertainment and media StorNext base are surely things they are looking at.
The full results will be announced on 29 January and the outlook for the fourth quarter will be issued then. If it is around the first quarter level of $130m, then full year revenues will be $535.2m, down from the previous year's $553m. Currently it's showing a $3.9m profit for the year. If the fourth quarter brings in a profit as well, despite the expected revenue decline, then that would be a significant improvement but let's not get ahead of ourselves. Fiscal 2011 was Quantum's last profitable year, so any profit in fy 2015 at all would be most welcome. ®
Sponsored: Detecting cyber attacks as a small to medium business