Peers warn against rushing 'enhanced' DATA SLURP powers through Parliament
Counter-Terrorism Bill needs proper scrutiny, says committee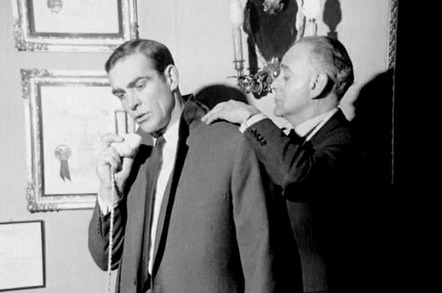 In the past 24 hours, UK Prime Minister David Cameron has reiterated that the Tories will once again attempt to push for large-scale surveillance of Brits' internet activity, if his party returns to Whitehall after the General Election in May.
In parallel with the PM's latest efforts to gain support for more snooping powers following last week's terror attacks in Paris, a report published by the House of Lords Constitution Committee this morning warned against the Counter-Terrorism and Security Bill being "semi-fast-tracked" through Parliament.
Peers on the panel expressed concern about the proposed legislation, by arguing that the Palace of Westminster lacked the time required to allow for proper scrutiny of the bill.
On data retention specifically, the planned law would amend the Data Retention Investigatory Powers Act 2014 (DRIP), which was rubber-stamped by Parliament last year.
The select committee said:
Whether existing data retention powers should be enhanced or not is a contested matter. The constitutional issue arising is that a semi-fast-track bill is being used to amend sensitive and controversial provisions contained in earlier legislation that was also fast-tracked.

Moreover, the fast-tracking of the Data Retention and Investigatory Powers Act 2014 was undertaken expressly on the basis that it did not "enhance data retention powers" (PDF) but merely placed on a firm legal footing powers that the UK had already provided for but the basis for which had been found unlawful by the Court of Justice of the European Union.
In July 2014, the UK's Tory-led Coalition Government secured the backing of the country's main political parties by rapidly forcing the DRIP law through parliament just three months after the European Court of Justice ruled that the Data Retention Directive was "invalid" because it lacked adequate privacy safeguards.
However, politicos and peers were given just days to pore over the bill ahead of summer recess, after Home Secretary Theresa May insisted that emergency legislation was needed to keep us Brits safe from terrorists.
Today, the Constitution committee urged caution against applying such urgency to the Counter-Terrorism and Security Bill.
It said in its report:
The bill seeks to enhance the data retention powers provided for in the fast-tracked Data Retention and Investigatory Powers Act 2014. The House may wish to consider whether the semi-fast-tracking of the bill allows Parliament sufficient time to scrutinise whether the enhanced powers are proportionate.
The warning from peers comes as the European Parliament's Legal Services office opined, in response to the ECJ's ruling, that members of the 28-state bloc who are creating their own data slurping laws must square those rules with the EU's Privacy and Electronic Communications (e-Privacy) Directive.
Separately, government ministers from European states, who met in Paris for a show of unity on Sunday, called on internet firms to do a better job of cooperating with spooks and police to help them fight terrorism.
I'm on my way to Paris to march with the French people. The #CharlieHebdo murders will not crush our spirit or our values.

— David Cameron (@David_Cameron) January 11, 2015
Cameron was unsurprisingly quick to once again demand more surveillance powers for Britain's security services, immediately after agreeing that terror attacks on a handful of people mustn't threaten citizens' way of life, movement and freedom of expression in Europe.
Last night, the PM told ITV News:
We do need to modernise our rules about interception.

I think we cannot allow modern forms of communication to be exempt from the ability, in extremism, with a warrant signed by the Home Secretary, to be exempt from being listened to.

That is my very clear view and if I am prime minister after the next election I will make sure we legislate accordingly.
The Tories have steadfastly stuck to its plans to reboot its mothballed Communications Data Bill, colloquially dubbed a Snoopers' Charter, if it returns to government after the General Election in May.
But for those in doubt, the Labour Party, which failed to push through its Interception Modernisation Programme when it was last in government, has made it clear that it too will demand a big overhaul of Blighty's super-snoop powers if Ed Miliband gets the keys to Number 10. ®
Sponsored: What next after Netezza?