IBM: Hey, Intel and pals. Look on our massive patent pile and despair
Tops ranking for 22nd time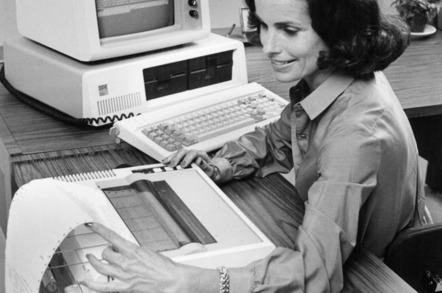 IBM has once again been crowned the leader of the annual patents list, way ahead of US tech giants such as Microsoft, Google and Apple.
It's the 22nd year in a row that Big Blue has led the pack with its patent stash, which a company can use as a pile of competitive and anticompetitive weapons in the software world.
Big Blue bagged 7,534 utility patents in 2014, the multinational said in a back-slapping statement today.
Samsung took the number two slot, with 4,952 patents granted to the South Korean firm in 2014, while Microsoft was awarded 2,829 patents and Google grabbed 2,566 patents during the same 12-month period.
IBM boasted:
The company's 2014 patent count exceeded the combined totals of Accenture, Amazon, Google, HP, Intel and Oracle.
And here's a canned statement from IBM's boss Ginni Rometty:
IBM's continued investment in research and development is key to driving the transformation of our company, as we look to capture the emerging opportunities represented by cloud, big data and analytics, security, social and mobile.

IBM's patent leadership over more than two decades demonstrates our enduring commitment to the kind of fundamental R&D that can solve the most daunting challenges facing our clients and the world.
But then, Big Blue might also want to turn its patent success into an improved return on sales, given that the company's revenue during its last quarter fell six per cent year-on-year to $22.4bn. ®
Sponsored: How to get more from MicroStrategy by optimising your data stack