HP breaks for Xmas week - aka 'staff hols' - source
Claims workers forced to take annual leave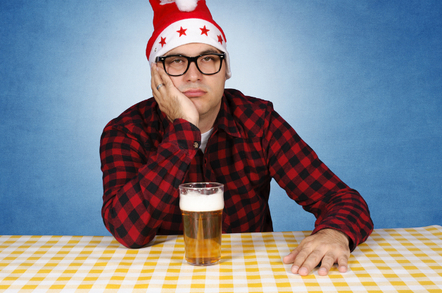 HP has reportedly flicked the switch on its main sites and required employees to take holiday leave between Christmas and New Year, in a move to cut labour and running costs, a source tells us.
An operator on HP's switchboard confirmed to El Reg that the company's main sites will be closed until 5 January.
The insider told us: "HP sites are shut, with AC and heating units reduced to weekend cooling or heating standards; cleaning crews are idled; contractors are sent packing; data center systems are shut down - with admins hoping that they can be booted with no hardware failures in early January," he claimed.
HP has been desperately attempting to balance its books for a number of years, with the firm expecting revenue in its Enterprise Services division to continue to decline by a further 5 per cent in the next quarter.
In October the firm announced a split between its Printing and Personal Systems (PPS) division set to become HP Inc, and the server, storage, networking, services and software units reforming as Hewlett-Packard Enterprise (HPE).
However, the move to shut shop over Christmas is unlikely to help the firm get ahead for 2015, as progress on projects is postponed for nearly two weeks.
"Just how successful must HP's turnaround be before its employees can choose when to take their vacation?" asked our insider.
The Register has contacted HP for comment. We'll update if we hear more. ®
Sponsored: From CDO to CEO