Solar-powered bra maker suffers 20,000 TITSUPs all at once
Firm tells women to take them off immediately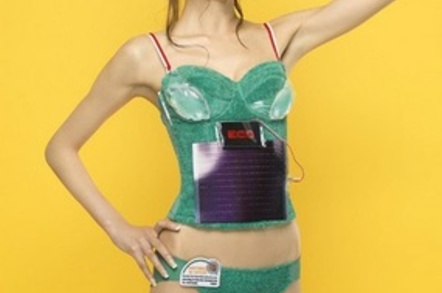 Solar-powered bra manufacturer Triumph International has been forced to recall 20,000 solar-powered brassieres.
The Swiss-based lingerie maker is best known for its bra that allows the wearer to become her own source of renewable energy via a detachable solar panel - providing much-needed support while simultaneously supporting the environment.
The bras also come equipped with plastic pouches that can be filled with water, allowing wearers to quench thirst without having to buy plastic bottles.
Even less fathomable is the manufacturer's "Abenomics" bra that addressed the issue of boom and bust economics by honouring Prime Minister Shinzo Abe's fiscal policy plan the only obvious way.
But it turns out that when it comes to getting the basics right on their "vanilla" range, Triumph International is not always so reliable.
The manufacturer was forced to recall 20,000 of its standard-issue brassieres following reports that the underwires started to spontaneously poke out, sometimes while women were wearing them.
"We are sorry for the bother, but we ask customers to stop using the bras immediately," the company said in a statement.
Fans of the manufacturer are advised to stick to wearing its solar-powered bra complete with water pouches to avoid accidentally looking like a tit in public. ®