Space Commanders lock missiles on Elite's Frontier Devs
Elite: Dangerous launches but offline mode rebels have gone guerilla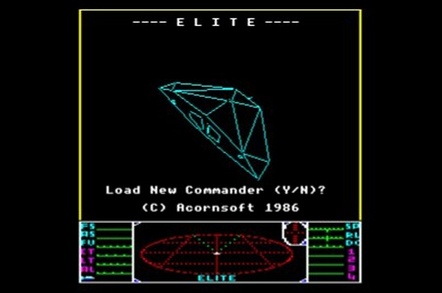 Elite: Dangerous, the re-boot of the hit eighties space combat and trading game Elite, launched last week, but the biggest buzz in the wake of its arrival is from disgruntled fans who want a refund.
Players want their cash back because, as we reported last month, developer Frontier Development made a late decision not to offer an offline mode in the game. The Kickstarter and many other subsequent communications never suggested offline mode would disappear from the final product.
Those seeking refunds aren't having much luck. This 1700-comment thread on Frontier's forums report responses such as this:
"Kickstarter pledges are an investment into a project, with the understanding that elements of the initial pitch may change or be removed as development progresses.

The cancellations and returns policy on our site states that pledges are non-refundable, so I cannot offer you a refund on this purchase.

I'm sorry that we cannot assist you further in this instance."
On the game's Kickstarter page, users are reporting responses like this one in which a buyer says Frontier said "Our records show that you backed the game before we committed to an offline mode. As such, we are unable to offer you a refund on this pledge unfortunately."
Others report being told that Frontier's processing refund requests "on a case-by-case basis", which may cover the correspondence above.
Disputes are roiling, in a fashion that will be utterly familiar to frequenters of any forum, about just who said what and when, whether Kickstarter allows feature withdrawals, how to invoke the UK's consumer laws and a dozen other matters.
News of the refund issue is now leaking out into sites like Metacritic, where the game is not being treated kindly by those seeking a refund and what appears to other interested parties. It's conceivable, of course, that some of those critics are trying to damage Frontier Developments rather than actual disappointed purchasers.
Either way, satisfying a bunch of former fans will be a tricky task for Frontier to pull off. Perhaps even trickier than docking with a space station without a docking computer. ®
Sponsored: Becoming a Pragmatic Security Leader