Careful - your helmet might get squashed by a Volvo
Car-dodging tech for cyclists unveiled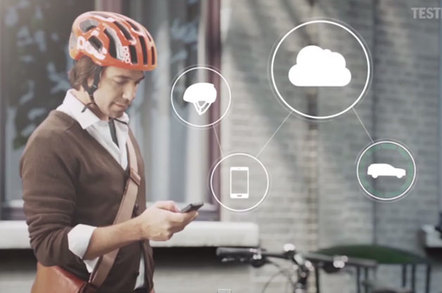 Volvos will soon be capable of squawking their presence to cyclists wearing a helmet made by the cycling brand POC, letting the Lycra louts get out of the way of the four-wheeled Scandinavian middle lane hoggers.
The idea behind the new technology from Ericsson is that both the car and the bicycle can determine when their proximity and direction means one imperils the other, and warns both the driver and the rider.
Using a smartphone app for cyclists such as Strava, the cyclist's position can be shared through the Volvo cloud to the car, and vice versa. If an imminent collision is calculated, both road users will be warned - letting them take the necessary action to avoid an accident.
The Volvo driver will be alerted to a cyclist nearby through a heads-up display alert – even if he happens to be in a blind spot (behind a bend, or another vehicle, or hardly visible during night time). The cyclist will be warned via a helmet-mounted alert light.
"The partnership between Volvo Cars, POC and Ericsson is an important milestone in investigating the next steps towards Volvo Cars' vision to build cars that will not crash," said Klas Bendrik, veep and group CIO at Volvo Cars.
Video explaining how all this tech works.
"But now, by exploring cloud-based safety systems, we are getting ever closer to eliminating the remaining blind spots between cars and cyclists, and by that avoid collisions," he added.
POC makes high end, and expensive sporting kit such as snowboarding helmets with Bluetooth and aerodynamic cycling helmets for racers.
"The partnership with Volvo Cars aligns very well with our mission and we are excited to see how we can contribute to cyclist safety and increase interaction between cars and cyclists alike," said Stefan Ytterborn, CEO and Founder of POC. 
"Our latest work with Volvo Cars to explore protecting the millions of cyclists on the road is just the latest example of innovation that can change the world," opined Per Borgklint, SVP and Head of Business Unit Support Solutions at Ericsson.
Of course, all this means cyclists only get warned of approaching Volvos. It's not a standard yet, but it's better than no warning at all. ®
Sponsored: What next after Netezza?