ASA slaps Ebuyer AGAIN - this time for ignoring regulator
Toothless watchdog growls, firm says 'LA LA LA, WE'RE NOT LISTENING'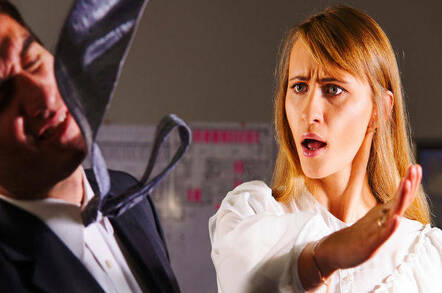 Toothless ad regulator the Advertising Standards Authority has put online souk Ebuyer on the naughty step again for using misleading advertising – the seventh complaint upheld against the company roughly three years.
However, it seems Ebuyer is so bored of the gummy watchdog it has simply ceased responding to its enquiries.
This time the ASA upheld a complaint that its headline claim of "Free next day delivery on all of your orders this month" was misleading because it did not actually, er, apply to all orders.
The accompanying small print "contradicted rather than qualified the headline claim," it said. This included restrictions on: location and weight, the exclusion of PayPal purchases, free delivery only available for spend over £49.99, and restrictions to delivery outside the UK and certain postcode areas.
The ASA ruled the ad should not appear again in its current form. "We told Ebuyer (UK) Ltd to ensure future ads made clear any eligibility restrictions," it said.
"The ASA was concerned by Ebuyer's lack of response and apparent disregard for the [Committee of Advertising Practice] Code," grumbled the regulator.
It added: "We reminded them of their responsibility to provide a substantive response to our enquiries and told them to do so in future."
In September 2012 the ASA told Ebuyer off no less than twice for misleading customers over hard drive promos, and over "free delivery" claims. In July that year it had also been scolded for "misleading" tablet promotions.
The web shop was also told off by the ASA in 2011 for a Wi-Fi internet radio promo spot that the regulator said "misled" consumers.
Given it is the season to be jolly, we want to remind readers of the festive cheer that Ebuyer spread last Chrimbo, when it put out a PR pic of staff wearing Xmas jumpers... stood in front of a board rating those that had managed to prevent the most customer returns.
The company has yet to post this year's nativity scene. ®