Microsoft to open source HALO's cloudy back-end
Azure, meanwhile, advances its hybrid march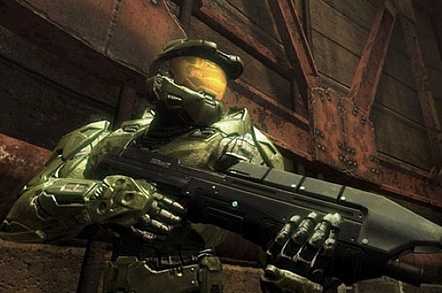 Microsoft has decided to release the code for "Project Orleans", code the company uses to power "the basis of the Halo 4 services architecture."
Halo 4, for the handful of uninitiated among you, is a multiplayer first-person shooter beloved by millions.
Microsoft's talked about Project Orleans for a while, as the company feels it is suited to applications like handling input from oodles of Internet of things sensors, running social networks or "other scenarios with complex and dynamic relationships".
The company called for community feedback on the tool earlier this year and now says a logical next step is to make the code available for all on GitHub. That's expected to happen some time in "early 2015".
Also ready in more or less the same timeframe will be Azure AD Connect, a tool that connects on-premises and in-Azure versions of Active Directory.
Microsoft's been playing with this idea for a while, but the tool's now advanced from beta to "Preview", but that status change doesn't mean this download will be supported in production environments.
What does change is that Azure AD Connect now includes the functionality of several other tools, namely DirSync, AAD Connect, AAD Sync and, ADFS. Microsoft says feedback from users – big shock here – indicated a preference for "one simple, integrated tool" rather than different bits of software. The other tools mentioned above will not therefore receive updates: it's Azure AD Connect or the highway from now on.
Microsoft reckon linking on-premises and cloudy Active Directory now takes four whole clicks. As if sysadmins didn't have other things to do with their time.
Microsoft hopes to have a fully-supported version of the tool out the door within 90 days.
The company's been busy with other bits of Azure, too. Last week it switched on solid—state-disk-powered virtual machines in the following configurations.
| Disk Types | P10 | P20 | P30 |
| --- | --- | --- | --- |
| Disk Size | 128 GB | 512 GB | 1 TB |
| IOPS per Disk | 500 | 2300 | 5000 |
| Throughput per Disk | 100 MB/sec | 150 MB/sec | 200 MB/sec |
Redmond's also released its application-delivery tool RemoteApp a tool that makes it possible to use Windows applications on PCs, fondleslabs or smartmobes running Windows, iOS or Android (and MacOS to boot). At US$10 per user per month, this method of tossing apps into a hosted Windows Server VM and using its Remote Desktop Session Host to pour apps into device won't put smiles on faces at Citrix or VMware.
Azure's also added " near-complete SQL Server 2014 engine compatibility" and has switched on the media-streaming services it used to power events like the 2014 FIFA World Cup and Sochi Winter Olympics.
There's also a new and powerful twist for Azure Site Recovery, Microsoft's service that takes snapshots of virtual machines and uploads them to Azure for failover scenarios. It's now possible to use the service without running System Centre, a nice omission that makes the service rather easier to adopt for smaller shops. ®
Sponsored: Quit your addiction to storage