Microsoft opens smiley-kids jangly guitar doc-maker to all
Heir apparent to Word and PowerPoint, 'Sway', gains UNDO function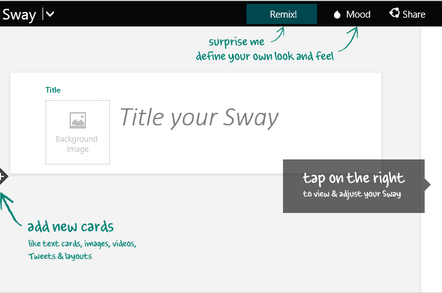 Microsoft has opened its new Office app, Sway, to all comers.
As we reported last October, Sway is a document creation and content aggregation tool. Microsoft's laying on the inspirational stuff pretty thick: it says the tool will let you "reimagine how your ideas come to life" and "create a beautiful, interactive, web-based expression of your idea". The promotional video for the tool is a jangly-guitars, cute-kids, I'm not just productive, I'm empowered affair.
As we noted in the review linked to above, that's a nice position but the limited preview version of Sway was more frustrating than empowering.
Microsoft now says it's added undo and redo actions, made it possible to use bullets and numbering in the text tool bar and has made re-ordering sections simpler.
And it's also thrown open the app to anyone with a Microsoft account.
While Sway is clearly an Office app, it's not clear if Microsoft will bundle it with office. The only client software is for phones 'n' slabs, so it may be that it's an Office 365-only affair rather than destined for the desktop.
But even on phones it may struggle to attract attention: Samsung's Scrapbook app has hardly set the world alight despite being bundled on the Galaxy S5. The app is, however, even less intuitive than the first version of Sway. The update probably takes Microsoft's tool well beyond Samsung's effort. ®