IBM: Get yer cloud services! Analytics, mobile, ten a penny
Mouthpiece gives us pile of guff about Cloud Marketplace - so we cut through it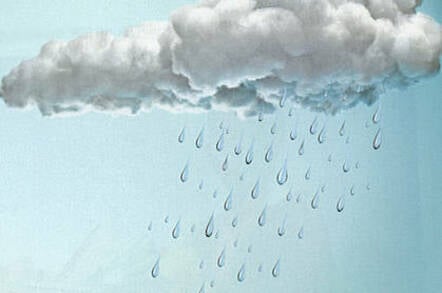 With all bets placed behind software and services, IBM needs to quickly re-tune its route to customers to get the right suppliers on board and the revenue dial moving in the right direction again.
The grand lady of tech is challenged on multiple fronts; the System x volume hardware business is transferring to Lenovo along with some of the incumbent Business Partners of size; the existing software channel is largely made up of specialist boutiques; and monolithic outsourcing contracts are harder for the services teams to come by.
Big Blue has already said it wants to sell all products as a service, and with this in mind it rolled out the Cloud Marketplace in the States in September. It's presumably holding back on a global launch to ascertain how the concept develops and analyse adoption rates.
Step up a loquacious PR person – there are tons of them at IBM, acting in unison as a tail that wags the dog.
"IBM Cloud marketplace is a single online destination that serves as the digital front door to cloud innovation".
The PR man said of the marketplace, for extra clarity:
"It will also allow knowledge workers to do their jobs more effectively and collaboratively by synchronising and making the content they need available on any browser, desktop or mobile device".
Got that? IBM's marketing team obviously thought it made fantastic sense in the weeks it took them to respond to us.
In essence, the virtual market stall allows Big Blue to sell its "capabilities-as-a-service" to end users or trade customers. It also includes services and wares from channel types and third party vendors.
There are hundreds of services ranging from data stores, to security, infrastructure, IoT, DevOps, analytics, risk and compliance, gaming, business and operations support to mobile.
There are currently 100 Business Partners plugging their web-based services via the portal, which is not that impressive when considering IBM has 120,000 BP's worldwide. It doesn't break down the numbers at a country or regional level.
IBM told us it is moving participating suppliers from the limited preview agreement to the full commercial equivalent.
The level of trade to date on the Marketplace is unavailable but customers will be directed toward the site. Neither would IBM hint at expected partner recruitment.
"We steer customers toward Cloud Marketplace with a range of promotional activities including meet-ups, Bluemix events and Hackathons, all ISVs, partners and Ecosystem Development".
"We have received positive feedback from partners and clients - API economy, access to global market, [and] early participations [are] motivations," the spokesman said.
So IBM has built the marketplace, but will the partners come in their droves? Current enrolment suggests not, or at least not yet. And this is a major part of the problem, how do vendors retrain their own workforce while finding the time and money to help out partners.
Amazon Web Services UK boss Iain Gavin told us recently that he thought it is easier for "born in the cloud" businesses to sell technology in the cloud.
For legacy tech providers there's a heap of potential pitfalls that are unavoidable, from re-engineering sales commissions to a different billing structure – not to mention updating the skills of sales folk.
IBM is not alone is facing these business challenges; nearly all of the mega-brands are trying to be software and service sellers. HP is breaking up in a bid to be more adaptable to market changes; Symantec decided it can't get the storage and security arms motoring together; and EMC is still mulling a split.
The pressure is mounting on these legacy old world vendors, and in its last set of financials for calendar Q3, IBM CEO Ginni Rometti said she was "disappointed" as the top line slipped six per cent year-on-year to $22.4bn, and net profit slumped 14.6 per cent to $3.5bn.
Rometti said there was a "marked slowdown" in client buying behaviour in September", and the numbers pointed to the "unprecedented pace of change in our industry".
As such, IBM has deserted its medium term earnings targets set by former CEO Sam Palmisano, who once vowed Big Blue would generate $20 earnings per share in 2015.
One highlight in the results was that cloud sales in the nine months of the year to date were up 50 per cent on the prior year's corresponding period, and tech delivered as a service was up 80 per cent, indicating an annual run rate of $3.1bn.
As for the expansion of the Cloud Marketplace, IBM told us it has no launch date in the diary for EMEA or elswhere, and did not answer our questions about how many UK Business Partners had signed up for the Solution Store, which sought to match-make organisations with different types of skills. ®
Sponsored: Minds Mastering Machines - Call for papers now open