Failed would-be COMET saviour now FAILS to save his own biz
'Harder to make money in electronics than he thought'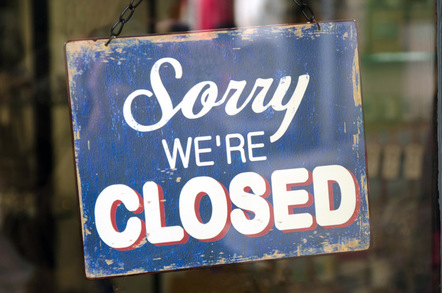 A creditors' meeting has been called for Lewisons Wholesale, an electrical retailer run by Clive Coombes, the man that tried and failed to resurrect the brand name of fallen UK High Street giant Comet.
As revealed by the Register last month, Lewisons Wholesale was struggling to remain afloat and had notched up eight County Court Judgement totalling £125k, related to unpaid debts in the past five months.
The Southampton office of restructuring and insolvency practitioner Quantuma is handling affairs for Lewisons, which is based in the same city. A meetings of creditors is due later this week on 18 December, according to several credit reference agencies.
Carl Jackson, a partner at Quantuma, is a leading account management but was unable to comment at the time of writing.
One supplier to Lewisons told us he had been unable to contact Coombes or anyone else at the company to discuss the payment of debts.
"I'm not sure I can be bothered to go to Southampton [for the creditors meeting], it's in the hands of the debt chasers. I've been to these things in the past when there is a feeling something constructive might happen."
Coombes very publicly stated in September 2013 that he wanted to yank the Comet name from the retail graveyard, but was unable to agree terms with administrator Deloitte. Coombes had stated he wanted to open 80 stores over the following two years to compete with Dixons.
But all the grand talking came to very little: Lewisons sold electronic goods from the Southampton HQ, and suppliers were told of plans to open a store in Hull and one in another, er, retail hotbed - Croydon.
"It sounds like he [Coobes] found it more difficult than he first thought to make money from electronics. I can't imagine there are any assets to sell," a disgruntled supplier claimed.
According to the last abbreviated accounts filed at Companies House for the year to August 2013, Lewisons Wholesale had a net worth of £1.135m, and trade debtors of £709,000.
Coombes has been an officer at 20 companies in the UK and seven of these have previously been dissolved. He remains a director at Lewisons Electrical Retailers which claims to have share capital of £150m.
We have mailed Coombes for comment, but have yet to receive a reply. ®
Sponsored: Becoming a Pragmatic Security Leader