Rosetta beams back colour pics: 67P shades of grey are SO HOT right now
Churyumov-Gerasimenko perfects the monochrome look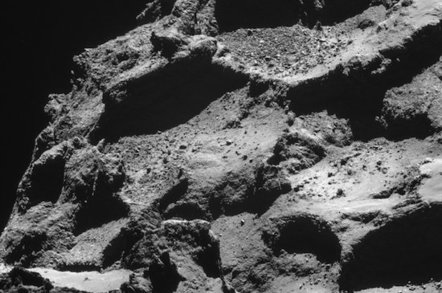 Pic Astro boffins working on the European Space Agency's lauded Rosetta mission, which spectacularly landed a probot on a speeding space rock last month, have revealed that Comet 67P is, well, very grey.
The ESA's OSIRIS team meticulously produced a colour image of 67P/Churyumov-Gerasimenko by superimposing photos "taken sequentially through filters on red, green and blue wavelengths," the agency explained on its Rosetta blog.
Three photos were snapped by a Narrow Angle Camera (NAC) on 6 August from a distance of 120 kilometres from the comet. But scientists have only just released the result of their work, because the process of superimposing the images accurately took a long time to complete.
Boffins found that 67P reflected red light a little more efficiently than other wavelengths. However, even with that analysis, the comet would not appear red to the human eye, the space agency said.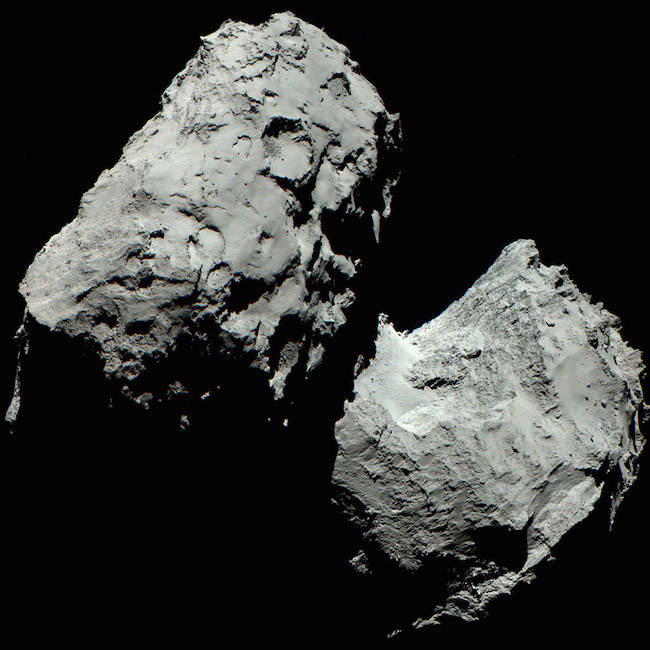 A colour image of Comet 67P/Churyumov-Gerasimenko.
Credit: ESA/Rosetta/MPS for OSIRIS Team MPS/UPD/LAM/IAA/SSO/INTA/UPM/DASP/IDA
It's just very, very grey and shrouded in an unknown, dark dust. The images also failed to pick up any brighter spots in the blue filter that could suggest ice was present on the surface of the comet.
"As it turns out, 67P/C-G looks dark grey, in reality almost as black as coal," said the instrument's principal investigator Holger Sierks, who is based at the Max Planck Institute for Solar System Research. ®
Sponsored: Becoming a Pragmatic Security Leader