Want disruption? We got disruption: Race protest halts VC Thiel's Q&A
PayPal investor interrupted by Ferguson campaigners at UC Berkeley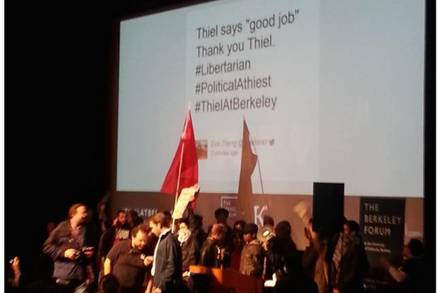 Pics Billionaire VC Peter Thiel loves disruption: bankrolling startups that shake up markets is what he does.
But on Thursday night, he got a little more disruption that he bargained for – when protesters rushed the stage and ended his Q&A session with students.
The PayPal founder and early Facebook investor was ironically about to respond to a question about political protest when about 100 people stormed in the room at UC Berkeley to protest about the recent grand jury decisions not to indict white police officers for the deaths of unarmed black men.
Having repeatedly interrupted Thiel's keynote by banging on the door, the protesters, waving various signs including "Black lives matter" and "Ferguson", eventually made it into the room and brought an end to the Q&A.
To his credit, Thiel – a noted libertarian – was heard to say: "This is a classic Berkeley event today ... cool," before the event was shut down, and just moments after being told "fuck you" by a male protester.
Inside #ThielAtBerkeley #berkeleyprotests @dailycal pic.twitter.com/SmIS0wjuf6

— Adrienne Shih (@adrienneshih) December 11, 2014
The organization hosting the talk – The Berkeley Forum – was less amused, putting out a statement that reads in part:
Tonight, our event featuring Peter Thiel was interrupted and prematurely brought to an end by a group of protestors… out of concern for Peter Thiel's safety, we escorted him past demonstrators blocking the exits and out of the venue. We apologize to our audience members for the unprecedented interruption and that the event became an unsafe environment. Ultimately, everyone made it out of the venue without serious reported injury.

While we respect and sympathize with the protestor's right to demonstrate, the right of free speech and discussion is a two-way street. The Berkeley Forum is founded on the principles of free discussion and intellectual exchange… Sadly, the opportunity to engage in productive discussion on the matter was lost.
The room in which the meeting was being held had the evening before celebrated the 50th anniversary of the Free Speech Movement.
It is the fifth night of protests in Berkeley and Oakland, California, following a second grand jury decision in Staten Island to not indict a policeman for the death of Eric Garner. Campaigners have repeatedly shut down freeways around the east side of the Bay Area in an effort to disrupt people's everyday lives under the rallying hashtag #ShutItDown. ®