Did we read that right... 46% growth? UK server market was HUGE in Q3
HPC deals, delayed refreshes result in whopping sales spike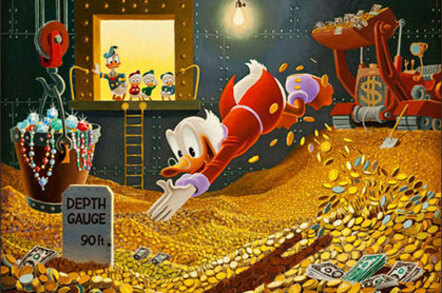 Perceived wisdom among server makers was that the era of year-on-year double digits revenue hikes each quarter was long gone - and yeah, they probably are - but UK suppliers still received a welcome financial fillip in Q3.
The value of the market shot up 46 per cent, to $520m, following a downbeat Q2 following a relatively decent Q1 - it's been a white knuckle ride for those flogging servers to pay the bills.
Giorgio Nebuloni, research manager for the European Data Centre Group, said the huge bounce was related to some one-off heavy duty projects and customers releasing budgets.
"There was pent-up demand on the x86 side that has been simmering for the past few quarters. The macro economic situation from a GDP perspective has been good but server sales were strangely lagging," he said.
Private sector clients refreshed estates, and some meaty public sector deals on the HPC side, including one between Cray and the Met Office, boosted sales. Remove the HPC business and the market grew a still by a respectable 20 per cent.
The x86 portion of the market grew 50 per cent to $470m, although the non-x86 element was flat at around $50m, IDC told us.
On the vendor front, market leader HP grew 25 per cent and reported a 36 per cent share of the total market. Nebuloni told us the business did well "across the board" with a good showing by channel partners.
Propping up the rest of the pack, Dell grew well below the market average at nine per cent, and it grabbed a 16 per cent market share. Nebuloni said Dell was seeing more competition in the service provider bit barn segment, and is strong in public sector, which outside of HP "lagged" spending in the private sector.
Sneaking into third spot on the back of the HPC orders, Cray grew 100 per cent to take a 15 per cent market share. It will likely drop down the rankings again next quarter, as the one-off deals are not repeated.
In what was supposed to be IBM's last full quarter of x86 sales in the UK - before it postponed the transition of the System x business to Lenovo until January - it performed comparatively well.
Revenues were up 15 per cent - any positive movements on servers from IBM is noteworthy these days - and market share was 12 per cent, way down on the days when it led the server sector by value.
Coming in at fifth, Cisco grew 15 per cent and bagged a seven per cent share of the spoils.
Another double digit bounce in revenues is not forecast for Q4, but given the roller coaster nature of server sales this year, who knows.®
Sponsored: Minds Mastering Machines - Call for papers now open