Vodafone to spend more time hanging out at bus stops
Will use posters for cell sites to receive as well as transmit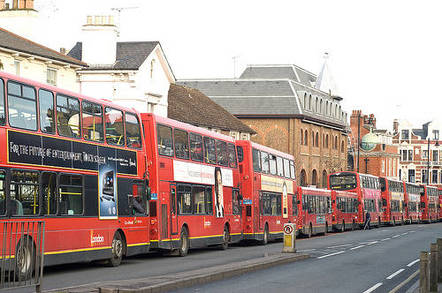 Vodafone has done a deal with poster giant JCDecaux to use posters sites and street furniture as sites for small cells.
The project is based upon an experiment in Amsterdam that used 1800MHz and 2600MHz small cells. Unlike the EE rural project, the sites are not meshed.
This isn't surprising since the focus of the project is expansion in urban areas, but it's disappointing to learn that the new sites will not support the fastest 4G speeds as there is – to begin with at least – no carrier aggregation.
All the mobile networks are desperately looking for places to hang their baubles and while they really want connectivity and power, they will settle for just power and use microwave links for backhaul.
Vodafone isn't saying whose kit is being deployed, although Ericsson does have a deal with Philips to make LED street lights which are also small cells. Vodafone says it will be talking to a number of manufacturers.
One area the hardware manufacturers are very keen on is turning mobile phone networks into advertising channels, and updating poster sized screens over the mobile network, but Vodafone has told us that this is not part of the new deal.
Some of the sites will already have mains power but Vodafone will be installing the small cell technology in sites that don't currently have power.
The drive to build out coverage has seen Vodafone partner with O2 on site sharing as part of the Cornerstone project. While small cells are not included in this, the new JCDecaux sites will be included in the joint venture.
Jean-Charles Decaux, chairman of the executive board and Co-CEO of JCDecaux, said: "After successful testing in Amsterdam, we are pleased to continue our collaboration with Vodafone by supporting its strategy to develop the quality of its networks. Connected street furniture is set to transform city life and JCDecaux is enthusiastic about contributing to these structural changes, providing lasting benefits to municipalities and citizens."
Kevin Salvadori, director of technology strategy and operations, Vodafone Group said: "We are delighted to partner with JCDecaux. This agreement will help us accelerate the deployment of small cell technology by giving us access to locations that in the past have not been available for network installations."
This agreement covers 14 Vodafone markets: Germany, United Kingdom, Spain, Italy, Netherlands, Ireland, Portugal, Australia, Qatar, Czech Republic, India, Turkey, Hungary and South Africa. JCDecaux has over 100,000 advertising sites across Vodafone's markets, but Vodafone isn't saying what its rollout plans are at the moment. ®
Sponsored: What next after Netezza?