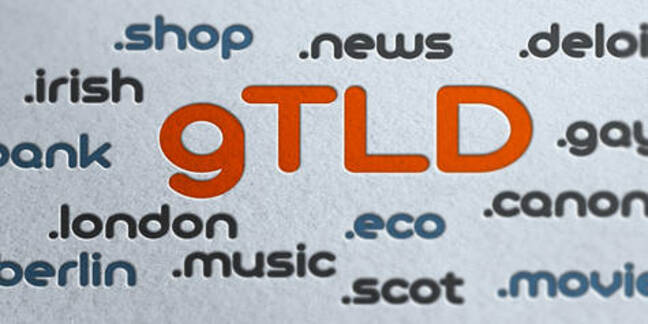 Roundup Everyone loves pizza. Even though the industry is responsible for cluttering millions of people's mailboxes with flyers, you'll still take a look and think about ordering one.
Well, expect to see one minor change in those flyers from now on – the addition of new .pizza domain names – thanks to the launch of the internet registry earlier on Wednesday. According to one registrar, it is the top selling domain at the moment (another five were also launched: .auction, .business, .immo, .network and .software).
There are a lot of new dot-words that don't look that promising but .pizza? Looks tasty to this humble hack.
Talking of which, the man behind the company selling .pizza domains, Paul Stahura of Donuts, is getting very excited about the fact these new generic top-level domains (gTLDs) are picking up some serious web search traction.
In a post to industry blog CircleID, Stahura points to "several recent studies and data analyses… [that] suggest that the first generation of new gTLD addresses are either matching or outperforming legacy gTLDs and ccTLDs in search performance."
Better than dot-com?!
According to one SEO company based in Dallas, the new gTLDs are doing better than king of the online jungle: the trusty dot-com. "Based on the New gTLD vs. Dot-Com research that I did, Google tends to prefer the new gTLDs versus the .com, at least in Google AdWords. In fact, they gave the new gTLDs we tested more impressions for less money," said Globerunner's Bill Hartzer.
Stahura argues: "The value proposition of new gTLDs is that they provide real semantic value and relieve the artificial scarcity that has stultified the legacy namespace for more than a decade. "
He has a point, as we have previously noted (although no new domain has yet to hit the Alexa top 1,000 ranking.)
Launches
Looking to catch a bit of the new gTLD action, there are also a number of new launches of both companies and services.
Dock Name aims to help startup founders find a good domain name by letting them post what their business is about, what they are looking for and the sort of domains they are interested in. Domain investors (who have bought up domains to flog later on for profit) can then post which online addresses they have they could match up, and people can vote web addresses up or down.
Meanwhile, Efty is aiming at domain investors by directly providing information and analytics on the web address they own. You can create landing pages, view the cost of renewals, see when domains are expiring, and so on. The idea is a simpler management tools for people with large portfolios of domains. It's currently in beta.
One new registry which is doing well, TLD Registry, has announced this week that it has started a partnership with two domain-name veterans and their Right of the Dot marketing business.
TLD Registry operates internationalized domain names in Chinese characters but sees a big market in getting Western companies to tap what is becoming an increasingly important market. Right of the Dot's owners Monte Cahn and Mike Berkens are based in the US whereas TLD Registry is based in Asia.
One domainer seems particularly excited about the news.
Investor insights
If you are interested in gaining insights into the business behind one of the largest domain companies, Rightside, then head over to its investor briefing from last week.
One of the nice things about a number of domain companies having gone public in order to raise funds (Rightside, Minds+Machines, CentralNic) is that they are legally obliged to provide data on their business.
So if you want to know why Rightside decided that dot-ninja was a good bet or how premium names get priced, you can either listen in to the two-hour investors call. Or head over to Domain Name Wire which has written up the highlights.
While on regulatory updates, CentralNic revealed that it sold $2.5m in premium domains through its new trading service. Unfortunately it didn't feel the need to say how many domains that covers or what they were.
Top ten
So out of all the 400 or so new extensions, which are the ones worth actually getting? Well, according to United Domains, which has just published half of a top ten, they are: .tips, .today, .email, .link and .photography. It plans to announce its top five tomorrow.
And if that wasn't enough for you, the industry is gearing up for a conference that will take place in Las Vegas (where else?) at the start the New Year. NamesCon will double its usual attendance according to early registration figures, highlighting that 2015 is going to a big year for the domain name industry. ®
Sponsored: Ransomware has gone nuclear