The Great Unwatched: BBC hails glorious digital future for Three
See this hair shirt? It cost a fortune (we've expensed it)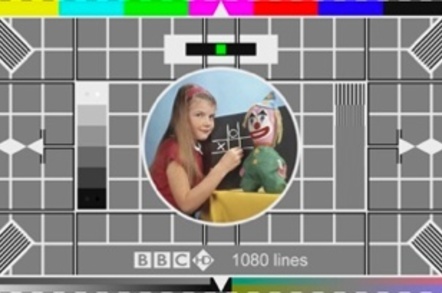 +Comment The BBC's director general Tony Hall hailed a great digital future for the little-watched terrestrial channel BBC3 today. The BBC wants to move it to the internet to save money, and has submitted the proposals for rubber-stamping by the BBC Trust.
The channel's budget has been cut from £55m to £30m, but TV programme expenditure will be even lower, as 20 per cent of that will go on "new form digital content", rather than full length programmes, in order to "drive engagement". These may be polls, blog posts or viral video clips.
"Imagine the Revolution guys being able to react to the 4p porridge story and getting something out on the day, or publishing an animated interview with the mother of a victim of a domestic abuse straight after Murdered By My Boyfriend," burbles BBC Three's Commanding Tristram, Tristram Damian Kavanagh in an excruciating blog post.
A petition to retain BBC Three on terrestrial OTA TV has gathered 265,000 signatures. The channel served as a "feeder" for BBC One, first broadcasting niche hits like Little Britain and Gavin & Stacey, which later became primetime fodder. This was a role once performed by BBC Two. Moving Three from the airwaves is also a sensitive subject because it's one of the few services to reach into the C2, D and E socio-economic groups: in other words, people who aren't middle class.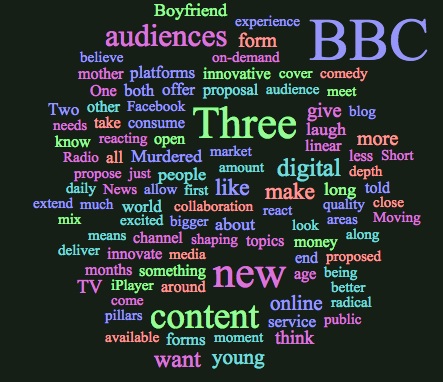 We made a wordle of the BBC Three blog post so you don't have to read it
+Comment
When making "cuts", the BBC seems to ensure its white collar managerial class is left intact. It also favours splashy and largely symbolic service cuts – like the mooted axing of BBC 6 Music – over structural cost-saving. So while the BBC shed over 400 net journalism posts this summer, its incoming News chief James Harding appears to have recreated an archaic, top-heavy structure modelled on print operations.
"Digital" and "Education" are often the justification for expanding the managerial ranks – and together seem to be unstoppable. This week the BBC launched a "gamification" app for children, where children can create their own, er game. That's part of a "digital education" initiative, another non-core activity that absorbs valuable cash.
Once "making Britain digital" became an acceptable part of the BBC's mission statement, almost anything could be justified. Notably, the BBC axed its £150m education sideline Jam ("meeting the online needs of school age children") in 2007 not not because of mission creep, but because of the negative impact on the education market.
Under the banner of digital, the middle class marches on.®
Sponsored: Becoming a Pragmatic Security Leader