Remember that Big Blue Apple? Biz apps for iPads are here
If only there was an app for bankers! Oh, there is, and retail, and...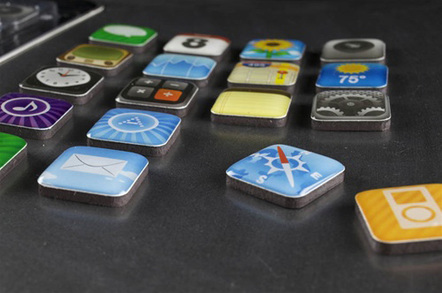 The fruits of Apple and IBM's enterprise software alliance were today plucked and displayed for the world to see: a bunch of apps ported to iOS that target corporate buyers of iPad and iPhones in specific vertical industries.
In the first tranche of Big Blue developed MobileFirst "made for business" apps and "supporting" cloudy stuff, the pact aims to tap up iDevice punters in banking, retail, insurance, financial services, telecoms, government and airlines.
The apps come embedded with analytics and are linked to core enterprise processes, the firms claimed. They can be customised for organisations and deployed, managed and upgraded via IBM's cloud services for iOS devices.
"This is a big step for iPhone and iPad in the enterprise," said Philip Schiller, Apple senior veep for worldwide marketing in a statement plastered with marketing bluster, further proclaiming "the business world has gone mobile".
The deal means Apple gets its hands on enterprise apps without having to step outside of its comfort zone, and IBM - having exited end-point kit - gets to sell its software and services to any business folk lusting after shiny iGadgets.
The success Apple has had in squeezing more of its products into every day business life has been dwarfed by sales of slabs to consumers, and given market saturation on that side, a renewed push into enterprise is timely.
IBM estimates it has secured over 4,300 patents in mobile, social and security that are to be incorporated in the MobileFirst wares. It will port about 150 applications to Apple's operating system.
The first ten apps in the suite include Advise and Grow for bankers and financial markets, Retention for insurers, Case Advice for government customers and Pick & Pack for retailers.
In another PR blurb, IBM Global Business Services senior veep, Bridget van Kralingen, shrieked: "what we are delivering aims directly at the new quest of business - smart technologies that unlock new value at the intersection of big data and individual engagement".
Additional support the partnership will provide includes Mobile Platform and Enterprise Integration, AppleCare for the Enterprise, and Supply, Activate and Manage - involving procurement, deployment and lifecycle management.
Businesses that tested the apps and signed up as customers include Citi, Air Canada, Sprint and Banorte. ®
Sponsored: Becoming a Pragmatic Security Leader