IBM ponders least-cost cloud-brokering service after scoring patent
Big Blue wants to sniff all clouds and send them your workloads when the price is right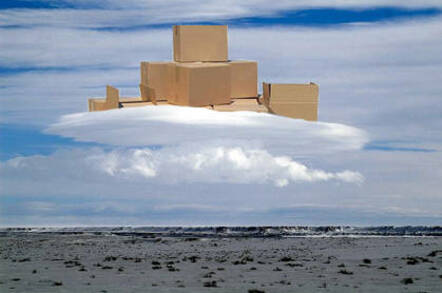 IBM has claimed a patent for "Routing Service Requests Based on Lowest Actual Cost within a Federated Virtual Service Cloud" that it says "automatically pools cloud computing resources from disparate cloud centers, enabling clients to improve performance and save money by reducing the amount of manual intervention needed to allocate hardware, software and services."
As the patent explains, what IBM has in mind is setting up a system that conducts constant inventory of available clouds, their capabilities and the prices on offer.
Automation tools are also described, so that users of software wielding the patent can set up rules that seek out clouds that meet their requirements for price or available resources, then send workloads or data in that direction.
Yes, this is just another patent. And one that, at first blush, looks to have lots of potential for challenges, not least because cloud-brokerages existed before the patent's 2011 filing date.
On the upside, IBM sees this as the kind of thing that managed services providers or resellers could use to help out their clients.
Throw in the fact that in these containerised times people are looking for resources on which to spin up sometimes-short-lived services and the patent looks to have lots of potential to help IBM make a quid.
If IBM merely licences the patent, that wouldn't be out of the ordinary: Big Blue gathers more patents than hot dinners in most years. If IBM keeps the patent to itself and enforces it aggressively, it could make itself an irritant to lots of other cloud operators and to quite a few cloud brokerages and startups offering similar analysis and recommendation services (think Cloudyn ).
Will the patent be as useful as IBM contests? AWS already offers spot pricing that fluctuates hourly and allows its customers to bid for upcoming instances at the price they want to pay, a facility some of its users appreciate. Building on IBMs patent might make it easier to take advantage of spot instances. Just how many organisations are ready to do so, comfortable with the notion that their workloads could bounce around the world and operate under different T&Cs, or so keen to shave a few cents here and there that they'd adopt this very dynamic mode of operations remains to be seen.
Would you? ®
Sponsored: Becoming a Pragmatic Security Leader