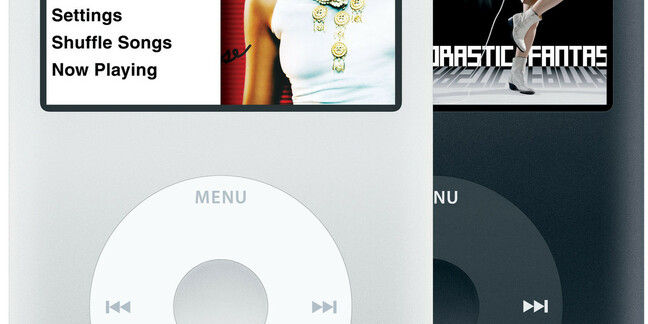 Apple quietly withdrew its iconic iPod Classic from sale this year – and now the hard-drive-packing music players are fetching handsome piles of cash on Amazon.
An unused sixth-generation silver 160GB model will set you back $1,500 from one tech hawker using the web souk to flog old gear. If that's a bit too steep for you, don't worry, others are touting Classics with price tags between $500 and $700.
Used models are still going for $250. Prior to being discontinued, the 160GB iPod Classic sold for $349 from Apple.

iGouge ... the iPod Classics on sale via Amazon
Apple quietly killed off the Classic in September when it revamped its iPods and iPhones.
The sixth-generation Classic was the last direct descendent of the 2001 iPod – which helped Apple rebuild itself as one of the biggest brands in the world, positioning it perfectly for the iPhone launch.
The old chunky player's popularity has waned as people shifted from dedicated media players to smartphones, and flash storage became cheap enough to become an alternative to the Classic's bulky 1.8in platter hard drive.
Thanks to hipsters and tech collectors, the iPod Classic is still in demand and commanding high prices. Perhaps Apple CEO Tim Cook would have been better served giving the old girl one last holiday shopping season to clean out inventories. ®
Sponsored: Webcast: Ransomware has gone nuclear