Telstra's NBN boondoggle nearly set in stone: reports
BEELIONS to flow out of the half-bakery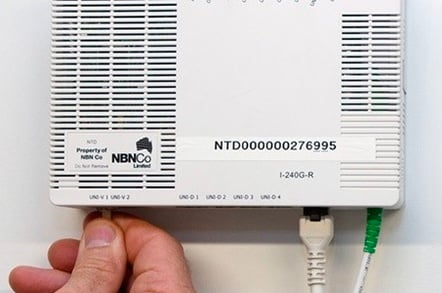 Reports are emerging that the builder of Australia's national broadband network, NBN Co, has all-but struck a deal with Telstra over access to last-mile copper, plus a separate arrangement to absorb the country's cable broadband networks. The deals are reportedly so advanced they'll be tabled at a cabinet meeting, perhaps even today's last such meeting for the calendar year.
The deals would remove the last stumbling-block to the government's plan for the "multi-technology mix" model for the NBN, replacing most of the original fibre-to-the-premises build with either fibre-to-the-node (or for apartments, the basement), and upgraded HFC networks.
According to the Sydney Morning Herald, the Telstra and Optus HFC networks will be valued at a startling $AU41 billion. That's not bad for infrastructure which, although it has undergone significant upgrades in the last decade, was given a book value of exactly zero in the early 2000s.
The SMH also claims that Telstra's original "$AU11.2 billion" (net present value in 2011) deal with NBN Co not only remains in place, but will be expanded because the incumbent will also rake in fees for helping manage the network construction. Over half a century Telstra is expected to peel nearly $AU100 billion from the arrangement, the SMH reckons.
The report doesn't detail whether the new contract will see ownership of the copper transferred to NBN Co, but that could be known by early next week. ®
Sponsored: Becoming a Pragmatic Security Leader