Met ready to cough £150m to IT bods who'll help coppers go digital
Plan will save police £60m per year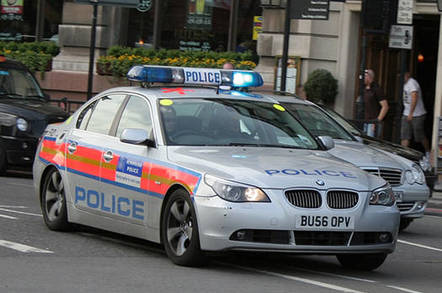 London's Metropolitan Police is seeking a systems integrator to help tackle its creaking IT in a deal worth up to £150m for "digital policing".
The force currently spends 80 per cent of its IT budget maintaining legacy systems, according to its Total Technology plan for 2014-17, published earlier this year.
Under plans for a more "agile contract approach", it intends to save £60m a year from the IT budget and reduce the current number of 750 systems.
Between 2014 and 2017, the Met intends to pump £200m into the effort, which will include handing 15,000 tablets to its front-line officers.
The Service integration and Management (SIAM) role entails responsibility for service design, transition, service operation, contract management and overall integration of the contract "towers".
The tender for a systems integrator will last five years with the possibility of a two-year extension.
By giving police greater access to mobile technology, the Met – which polices all of Greater London except the square mile looked after by City of London coppers – believes it can save the equivalent of an "additional" 900 officers (equivalent to time saved).
"Replacing dozens of IT systems with fewer core systems will support the criminal justice process from incident through to court. It will reduce paperwork, duplication and lead to more criminals being convicted thanks to better evidence at court," said the document," said the Met in February.
"It will cut ongoing IT costs by 30 per cent and allow officers to spend more time helping victims, catching criminals and keeping London safer."
The contract will be available to the Greater London Authority (GLA) and any of its Functional Bodies: London Development Agency (LDA); London Fire and Emergency Planning Authority (LFEPA); and Transport for London (TfL). ®
Sponsored: Detecting cyber attacks as a small to medium business