One digi market to RULE 'em all: Get with the net neutrality plan, guys, moans EU digi-veep
Andrus Ansip has toy/pram interface failure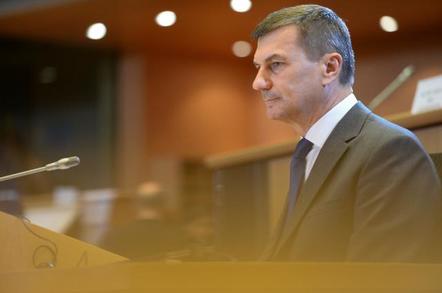 Europe's new digi chief has told telecoms ministers to get their act together and deliver strong net neutrality rules.
Andrus Ansip, European Commission veep for all things digital, said he had "no illusions" that this would be easy, adding: "I really hope that an agreement can be reached over the coming months. Otherwise, I fear that we may lose momentum."
Ansip was frustrated that, despite discussing it for over a year, telecoms ministers still haven't been able to agree a common position on the proposed Telecoms Package – a collection of EU laws aimed at creating a digital single market. Without that common position, they cannot enter the last phase of negotiations with the Commission and the European Parliament.
"I encourage EU ministers to intensify and complete the technical discussions so that these negotiations can start as soon as possible," said Ansip.
The digital veep identified spectrum, net neutrality rules and roaming as the biggest issues. Many member states are keen to water down net neutrality rules, but Ansip says the principle of net neutrality must be enshrined in EU law.
"Everyone should be able to access services and applications, and to distribute online content, without being blocked or throttled – regardless of the country they are in. But if 28 countries have 28 different approaches, it makes the market even more fragmented," he said.
"I want to see an end to geo-blocking – there's no place for it. Achieving this will benefit everyone, and so will getting rid of undue price discriminations."
Speaking in Brussels at the GSMA's 360 event, Ansip warned the telco industry not to continue "looking backwards to yesterday's services" and said roaming charges are on the way out. "They remain an irritant and an anomaly – and frankly, they give telecoms companies a bad name with their own customers," he said.
Finally he pointed out that EU countries should be working together much more on allocating spectrum saying without it a digital single market is impossible. ®