NBN Co details fibre/copper divide in new rollout plan
These are the places NBN Co promises - probably - to get something working by 2016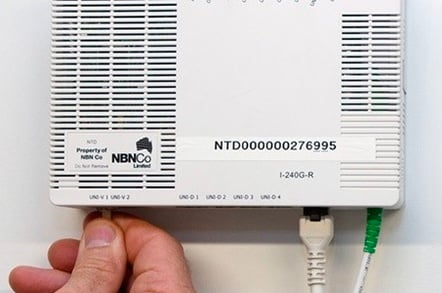 NBN Co has reconfirmed what's been known ever since the 2013 election: fiber-to-the-premises (FTTP) builds are more-or-less frozen, and all new builds will be under its multi-technology model.
Two weeks after its revised corporate plan capped Australia's experiment with fibre-to-the-premises, the network builder has published a build schedule out to 2016, which it says will add 1.9 million premises to its network in 400 locations – nearly all of them based on fibre-to-the-node.
Added to the 553,000 premises currently serviceable, the rollout document suggests that by 2016 the network will have reached 2.453 million premises, far short of the "all premises to receive a minimum 25 Mbps" of the then-opposition's election promise.
The latest announcement from NBN Co lists the suburbs to be connected. Readers wanting to know which technology they'll get can find the FTTP and multi-technology-model (MTM) rollout plans here.
The current build announcements exclude premises to be served by HFC (since negotiations over that network are ongoing) and the long-term satellite service.
NBN Co CEO Bill Morrow's canned statement offers a platitude to the effect that "Naturally some people will be disappointed that they are not included in today's schedule but ultimately no-one misses out as the NBN will be made available to every Australian family and business by 2020."
He's also given himself some wriggle room by saying "Of course, the longer the forecast, the greater the likelihood that changes will occur. That's only to be expected in a project of this magnitude."
We therefore can't say we weren't warned if things go pear-shaped. ®
Sponsored: Becoming a Pragmatic Security Leader