Men, Women and Children: Shows how crap the internet is via the medium of crap film
They should have cut out the bit on Earth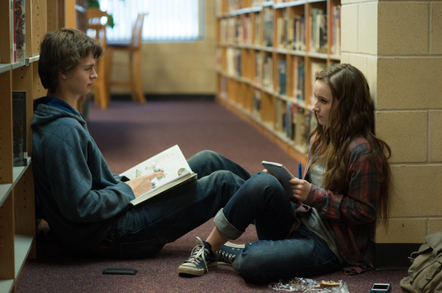 Film Review The internet has fundamentally changed the way we interact with one another - but at the same time it, like, hasn't. That seems to be the message behind the cringey and contrived Men, Women and Children.
Starring Adam Sandler, Jennifer Garner, Dean Norris, Judy Greer and Rosemarie DeWitt among others, this film is the latest "comedy-drama" from Jason Reitman.
While Reitman's oeuvre - Juno, Up in the Air, Thank You for Smoking - might not be to everyone's taste, compared to his earlier efforts it's surprising just how unfunny this heavy-handed attempt to define everday "digital native" life is.
The movie opens with the the Voyager I space probe on its journey beyond the solar system, set to the overtones of music chosen by the American astronomer Carl Sagan.
We then zoom in to Earth and spend the next 119 minutes following the trials and tribulations of a group of extremely annoying teenagers and their parents. All are struggling to keep their demons at bay with their worst indulgences just a wipe swipe away: a digital cautionary tale of being careful what you wish for.
Of course, porn plays a big role. And there are some genuinely interesting questions raised by the 15-year-old boy who is unable to, err, have a "relationship" in the real world because of his overuse of online stimuli. Also hearing narrator Emma Thompson use the phrase "Titty-F*cked Cum Queen" in her perfectly clipped voice was, for me at least, the one laugh-out-loud moment.
But no one should ever have to witness Adam Sandler, who plays bored and frustrated husband Don Truby, mouth his sexual preferences while choosing an online escort - employing the same studied decision-making skills most of use to order pizza.
Elsewhere, there's the anorexic girl who goes online to get instant starvation tips; an over-controlling helicopter mum, played by Jennifer Garner, who conducts a one-woman NSA Prism programme to "protect" her daughter; a loner teen who disappears into online gaming; and a deeply naive mother who thinks it's OK to post pictures of her daughter online for payment. The list of depressing characters goes on.
And yet, relationships are formed and broken without the use of an internet connection and everyone struggles with the age old questions of self-identity and meaning. 'Twas ever thus.
Mercifully, we're reminded of the "sound and fury" of it all when the camera pans back to the Voyager and interstellar space at the end. If only Reitman had cut out the Earth bit, this would have been a good film. ®

Writer Erich Segal
Director Jason Reitman
Cast Adam Sandler, Emma Thompson, Rosemarie Dewitt, Jennifer Garner, Judy Greer, Dean Norris
Release date 28 November
More info Official website
Sponsored: Detecting cyber attacks as a small to medium business