Australia dumbs down: Chief Scientist says research performance lags the world
Chief Scientist Benchmarking ALL the stupid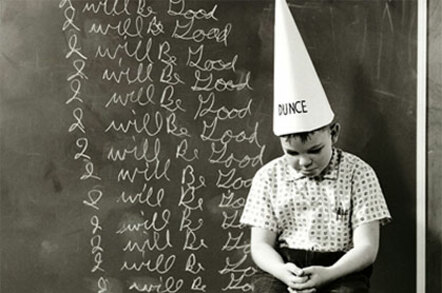 Australia likes to flatter itself that it's good at sciences: the nation's scientists did, after all, invent WiFi and lots of other useful stuff. But when the nation looks in the mirror it should be honest and and admit it's wasting away, says a new report from the nation's Chief Scientist.
In a report presented to the Commonwealth Science Council, Chief Scientist Professor Ian Chubb says Australia's habit of comparing itself to the rest of the world is of "marginal value only".
Rather than patting ourselves on the back and distracting ourselves from improving the country's STEM (science, technology, engineering and mathematics) performance, the report says Australia is an under-performer on many counts when compared to other advanced nations.
When compared with 11 Western European countries, along with the USA and Canada, the report says Australia's patent profile is near the bottom (the only other country to show declining international patents in the last decade is the UK), as is our level of collaboration between researchers and businesses.
Business disinterest in research is of particular concern, since as Professor Chubb told the Sydney Morning Herald, business/research collaboration more than triples the likelihood of business productivity growth.
In terms of citations, Australia only performs well in "earth sciences, physical sciences, mathematical sciences and the biomedical and clinical health sciences sub-group", the report states.
Australia's STEM educational performance also cops a serve, with school students' performance in international science tests declining dramatically between 2003 and 2012. In 2003, only three countries outperformed Australia's school students in international tests, rising to seven countries in 2012.
There's also at least a suggestion that Australia isn't getting value for money in how it allocates research funding. Although in Europe only Germany, France and the UK spend more on R&D than Australia, Switzerland, Denmark, Finland, Sweden, Austria and Belgium all achieve higher citation rates – that is, more influence – than we do for their R&D dollar. ®
Sponsored: From CDO to CEO