Thought tab sales were in the toilet this year? Hah! Wait for next
Global market forecast to decline 3.5 per cent to 185 million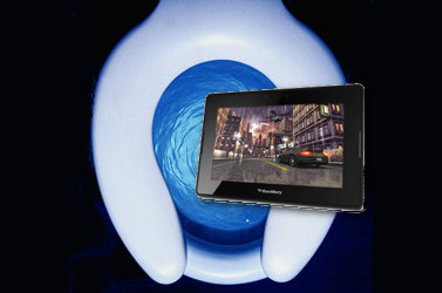 Slablet sales will be stuck in a U-bend next year and it may take a re-think from the manufacturers before they can be flushed out again.
A forecast from Taiwan-based TrendForce indicates tab shipments will decline 3.5 per cent in 2015 to 185.6 million units, the first backwards motion since Apple launched the iPad.
"We expect overall demand to stagnate in the mobile PC market over the next few years as high competition among brands, operating systems and products forces manufacturers to exit the market," said analyst Caroline Chen.
In contrast, she said notebook computers will edge up 0.6 per cent to 174.6 million units, aided by the big brands slashing prices and tapping into refresh cycles with businesses.
Both Gartner and IDC reduced tab estimates this year, with longer replacement cycles and smartphones taking over the functions performed by tablets as the primary reasons.
In the UK, channel stocks have been building throughout the year, and as revealed by El Chan, Samsung was the biggest culprit of channel stuffing.
Chen said Microsoft's forthcoming OS upgrade to Windows 10 has returned to the desktop design. The analyst firm said this means "the chance for the users to use touchscreen controls will be even lower".
With around 40 per cent of folk in mature tech market already owning a slab, manufacturers need to find more incentives to lure customers beyond lowering prices.
"In the short run, low prices can boost sales, but the ultimate result may be negative," she said, potentially resulting in market consolidation and vanishing product differentiation.
Tab makers might be able to shoe-horn more low-cost tabs into certain verticals such as education or the food and beverage industry but "content services will be the key to tablets to remain relevant in the future", the analyst said. ®