HP's converged storage 'growth engine' stalls
Annual compare shows fall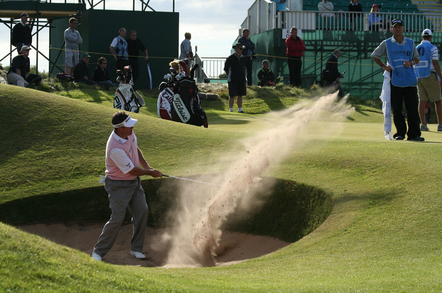 HP's newer, converged storage offerings are selling less well than they did a year ago. In the storage golf tournament, HP has hit bogeys instead of a birdy for the latest hole.
The company divides its storage into the traditional EVA, MSA, etc and newer converged storage, such as the StorServe 3PAR products. It provides revenue numbers for each category in its quarterly results and we took a dive into the latest numbers to see what's going on.
Storage was listed as 12 per cent of the Enterprise Group's $7.3bn Q4 fiscal 2014 revenue, which we calculate to be $878m, 8.6 per cent down compared to a year ago and showing the seasonal fourth quarter rise from the preceding quarter's $796m (our calculated number).
Charting the quarterly storage revenues makes a downwards trend visible, using a polynomial trend line: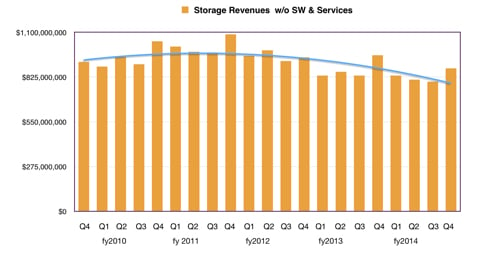 HP's quarterly storage revenues
Now let's look at the split between converged and traditional storage revenues – $396m and $482m respectively. Charting the quarterly change in these numbers over the year shows that the fourth quarter showed a large rise in traditional storage sales, the ones that are overall declining compared to the newer, more favoured, converged storage system sales.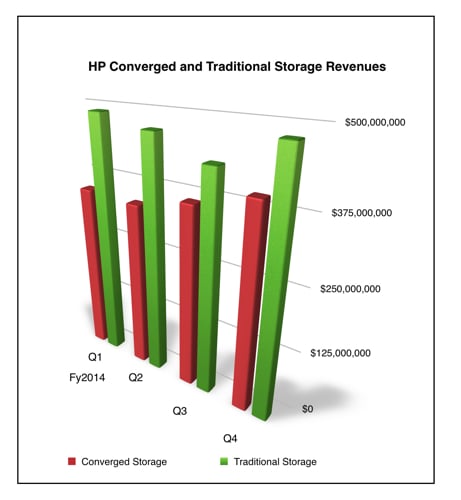 HP says the converged revenue was down three per cent year-on-year while traditional revenue was down 12 per cent year-on-year. That decline in converged revenue is a worry as that is meant to be the storage revenue growth engine.
Converged revenues gave been rising steadily on a sequential basis but not by enough to offset the general traditional storage revenue decline yet.
In her prepared remarks for the earnings call HP CEO Meg Whitman said: "The storage market continued its shift toward the mid tier from the high end, and our storage revenue declined eight per cent year-over-year. However, we remain very well positioned with our three-part platform, which grew year-over-year. And we expect to gain share as the market moves to the mid tier."
The mid-tier is where 3PAR products play well.
Stifel Nikolaus MD Aaron Rakers told his clients: "Storage revenue declined eight per cent yr/yr at $878m, which compares to EMC storage and NetApp Branded revenue growth at +6 per cent and +2 per cent yr/yr in their comparable quarters."
In other words, HP did not do as well as two of its main competitors.
Something put s crimp in storage sales and CO Cathy Lesjak gave a clue to what it was in her prepared remarks: "We need to improve sales execution in storage." Nothing wrong with the products – blame sales.
She provided more detail: "The market continues to shift from the high end to the mid range and entry level storage solutions, and we saw the shift reflected in the strong growth of our 3PAR mid range offering.
"We continue to see positive growth overall in 3PAR, although converged storage declined three per cent year-over-year. 3PAR plus XP plus EVA revenue declined six per cent year-over-year. We expect our external disc results to be largely in line with the market for calendar Q3."
HP storage growth depends hugely on 3PAR and it needs to do better than storage market par, in the golf sense, to get HP's storage results growing again. It has to hit birdies and eagles and not, as with this quarter, a bogey. ®