Google's whois results say it's a lousy smut searcher
Run whois google.com or whois microsoft.com. We dare you, you PIG◙◙◙◙ER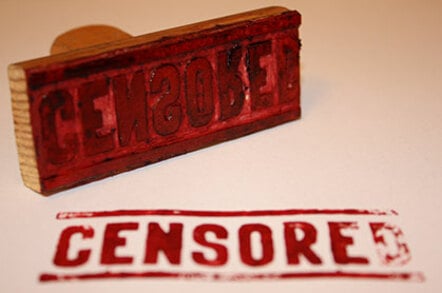 Naughty domain owners are still playing nasty tricks on the whois domain lookup service to tease the likes of Google and Microsoft.
Microsoft's had trouble with this stuff for years, and a whois search on Microsoft.com still produces results like:
MICROSOFT.COM.IS.NICE.WHEN.TOASTED.COMKAL.NET;
MICROSOFT.COM.SHOULD.INSTALL-GENTOO.NET;
MICROSOFT.COM.IS.NOT.HOSTED.BY.ACTIVEDOMAINDNS.NET; and
MICROSOFT.COM.HAS.A.PRESENT.COMING.FROM.HUGHESMISSILES.COM
There's also a couple along the lines of
"MICROSOFT.COM.ARE.
◙◙◙DAMN.PIG◙◙◙◙ERS.NET.NS-NOT-IN-SERVICE.COM".
Google suffers whois indignities such as "GOOGLE.COM.SUCKS.FIND.
CRACKZ.WITH.SEARCH.GULLI.COM" and the rather pointed "GOOGLE.COM.HAS.
LESS.FREE.PORN.IN.ITS.SEARCH.ENGINE.THAN.SECZY.COM".
Take that, Google. You know you like it you web-crawling … let's stop right there.
Among other top IT vendors, IBM returns values including "IBM.COM.DO.NOT.BUY.IBM.SERVERS.IT.WILL.REBOOT.A.LOT.BAOZUITUN.NET" and "IBM.COM.X.SERIES.SERVER.SUCKS.A.LOT.BAOZUITUN.NET".
Yahoo! and Dell have unfunny spam responses, but the likes of Oracle, Cisco, EMC, HP and SAP are all clean.
A clue about the origin of the odd Whois results is the fact that all refer to another domain. That's because the oddities are the result of domain owners creating a child domain containing another domain. So the result "MICROSOFT.COM.SHOULD.
GIVE.UP.BECAUSE.LINUXISGOD.COM" is a child domain of Linuxisgod.com.
That this is possible is one of the many things for which we can applaud the open architecture of the internet, but probably also among the reasons ICANN is keen to bin whois and start again. ®