A DRONE OF THEIR OWN: GoPro tabbed for cameracopter launch
Camera firm will cut the middleman for flying filmmakers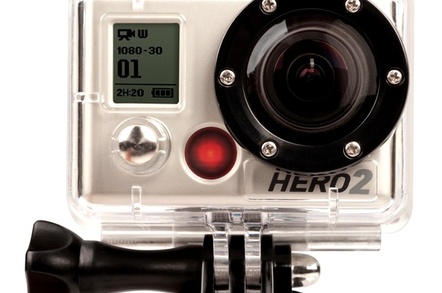 Action camera company GoPro is reportedly planning to develop and sell its own line of camera-equipped drones.
A report from The Wall Street Journal cites sources familiar with the plans in reporting that the company will develop "multirotor helicopters" with built-in HD cameras.
According to the report, the company would begin manufacturing the drones next year with the goal of putting the devices on sale in time for the 2015 holiday shopping season. The drones would be priced anywhere from US$500 to $1,000.
Though GoPro has yet to say anything about a future drone line of products, such a move would be a natural fit for the company. The GoPro camera is popular with outdoor sports enthusiasts for its portable, rugged design and many consumer drone owners attach a GoPro to the bottom of their copters in order to shoot aerial videos.
Those drone-based videos are also becoming increasingly popular online as the craft are able to get hundreds of feet in the air and record shots that would have required prohibitively expensive equipment mounted to a helicopter or small plane.
Amateur drone pilots and videographers have indeed been able to capture some remarkable footage with their drones. The camera-equipped copters were used to peek in on Apple's new corporate campus and capture footage of IRL Angry Birds and volcanic eruptions.
Others have used their drones to land on sports arenas and even make dirty movies. ®