Fat upstart Nimble embiggens revenues by 77% in ONE quarter
Even their losses are levelling off. You listening, NetApp?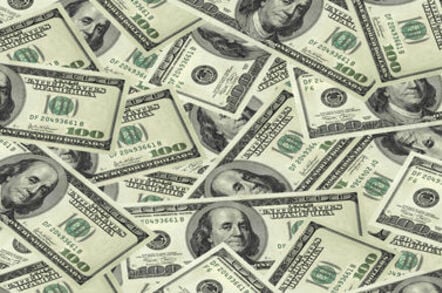 Nimble Storage is providing an object lesson in how to grow a startup after IPO, posting a 77 per cent jump in quarterly revenues – with revenue growth outstripping the loss increase rate.
The firm saw revenues of $59.1m in its third fiscal 2015 quarter, compared to $33.4m a year ago and $53.8m three months ago. The net loss was $28.4m; losses were $26.1m in the previous quarter and $10.1m a year ago.
CFO Anup Singh said: "We more than doubled our customer base over the last year, adding 568 new customers during the quarter to over 4,300 customers in total."
Sales outside Nimble's USA home base accounted for 20 per cent of its revenue.
You can see from these numbers how the growth in losses is slowing.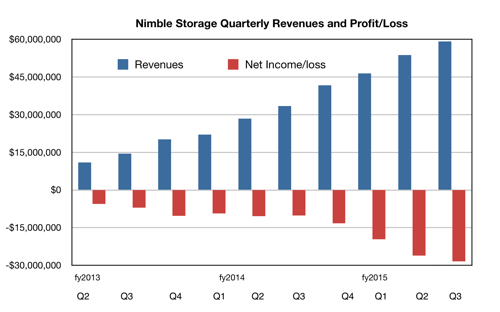 Stifel Nikolaus MD Aaron Rakers provide this thought: "Nimble exited quarter with 415 cloud service provider customers (vs. 342 exiting the prior quarter; 247 exiting fiscal 2014), as well as a reported 260 large enterprise (Global 5000) customers (vs. 229 exiting the prior quarter; 183 exiting fiscal 2014)."
In the earnings call CEO Suresh Vasudevan said of Nimble's product technology: "Our architectural approach is broader and superior to that of major incumbents as well as emerging companies in our industry."
Customers certainly believe it, going by the numbers.
Yahoo! Japan became a customer, Vasudevan saying: "We introduced our integration into OpenStack during Q3 and Yahoo! Japan became one of our early customer wins deploying us for OpenStack as they move their massive web-scale infrastructure to using OpenStack."
Vasudevan's growth strategy has four components:
Get new customers
Grow Global 5000 customer base
International expansion
Encourage customers to expand app load after purchase and buy more product
It's working. Vasdudevan said the last point "results in a doubling of the spend within eight quarters after the initial purchase, a pattern that remained very much in place during Q3."
He also discussed competition, saying: "EMC and NetApp together have continued to become the more dominant part of the mix, so it used to be Dell quite some time back. EMC and NetApp have continued to increase in terms of percentage of dollars that they represent competitively and that trend has continued – if anything, they have neck and neck. Dell has moved behind them and HP is increasing even at the expense of Dell."
And then he said this:
Our win rates have remained very healthy. Specifically, win rates against NetApp have remained at least as healthy as they have ever been, notwithstanding the new products that they have announced.
He doesn't expect Nimble to suffer much from NetApp competition: "As far as OnTAP 8.3 is concerned I do think what NetApp has accomplished is that now scale out clustering is at least a complete product and that they have got taken everything that they had in the previous version and made it applicable in the context of scale out clustering."
"I am not – I don't know why they would claim that anything has changed in their flash competitiveness," he continued, "because fundamentally the way they are implementing flash inside of OnTAP has not seen any substantial changes. We certainly don't see that impacting us from a win rate perspective at all."
Vasudevan was asked about other competitors. "We also saw primarily Nutanix and some – in some instances VMware's VSAN offering whether it has EVO: RAIL or as VSAN. We saw Nutanix more than we have seen in the past. We saw a few instances of VMware as well. And I will say both of those together are still not a significant number of deals. ... We haven't seen Simplivity too much yet."
Nimble has just added Fibre Channel connectivity to its all-flash and hybrid arrays, building in its original iSCSI access. It thinks FC sales could eclipse iSCSI sales eventually. The firm reckons this increases its addressable market fourfold, so, unless its major incumbent array competitors radically improve their legacy hybrid array offerings, and their support – which is an area of Nimble excellence – Nimble should continue growing; it expects fourth quarter revenues to be between $65m and $67m.
Any Fibre Channel-related revenue increase is expected two to three quarters out.
Rakers hopes to see Nimble break even on an EBIT (earnings before interest and taxes) basis at the close of its next fiscal year (2016). As long as it keeps on growing like it is, investors shouldn't mind one little bit. ®
Sponsored: Minds Mastering Machines - Call for papers now open