Wasn't it all supposed to be so different by now, Meg?
HP says fiscal '15 will be flat. Fiscal '16? Not prepared to say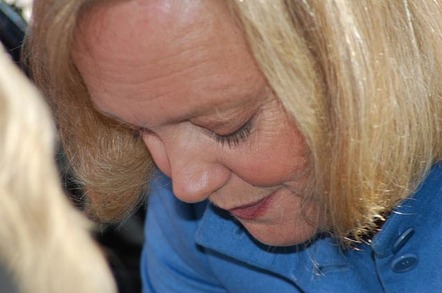 Showering partners with love, making changes to the exec line-up, upping R&D and other tweaks made by CEO Meg Whitman were supposed to get HP's business firing on all cylinders, but after year three of the turnaround plan, they've yet to do so.
The release of Q4 fiscal '14 numbers for the year ended October reveal a company with a still shrinking top line, albeit at low-single digits, and one that doesn't expect to grow in the current financial year either as it embarks on the most significant corporate split in history (not that HP would want you to believe these are related).
"I've always said that turnarounds aren't linear and while we are seeing clear pockets of growth, other areas still need more work," said Whitman on a conference with financial analysts.
Personal Systems was the only business unit to report an expanding waistline with commercial PCs taking the credit for this. The problem for all PC vendors, not just HP, is the XP refresh that aided sales recovery is now "largely complete", and taking share in a consolidating market will be the order of the day.
Not all was doom and gloom, operating margins across all divisions were up for the first time since the summer of 2012, helped in part by HP choosing its battles more wisely and undoubtedly by cutting operating costs - 41,000 people had left the business under the multi-year redundancy programme as of the end of October, and HP said some of this drop in overheads fed the bottom line. Another 14k are to go this fiscal.
"[We have] done a good job on the cost side," she said.
However, when Whitman replaced Leo Apotheker as CEO and wrote a five-year turnaround blueprint, sustained growth was forecast from fiscal '15 onwards. HP's boss insisted the company will grow sales by single digits next year but when currency conversions are accounted for, turnover will be flat.
"There has been tremendous change in the marketplace over the last three years, but I feel good about having stabilised revenues," said the exec.
The company expects business demand for desktops and notebooks to become more "moderate". IDC expects nearly 307 million PCs to be sold this year and 292 million next.
In the wider business, HP expects the enterprise hardware sector to "remain competitive", is shifting more software software online which could create "near-term revenue headwinds", and needs to get Enterprise Services (ES) back on an even keel.
"ES, we are planning to have slower decline in revenue in 2015 than we did in 2014 or 2013, so while we still anticipate ES will shrink in 2015, it will be at a slower rate and probably the biggest swing factor to growing the company will be what happens in ES revenue," said Whitman.
HP is cutting costs in the ES division in Europe and re-organised for fiscal '15. The CEO claimed on the conference call that HP is being invited to request for proposal from more customers and said win rates are up.
From a macro-economic standpoint, the geopolitical uncertainty is expected to continue, affecting specific countries including China and Russia, and currency fluctuation that all American companies are facing will continue, the boss said.
Whitman added it is "too early" to give guidance for the following fiscal when HP will be two $57bn Fortune 50 companies - HP Inc and Hewlett-Packard Enterprise (HPE).
The break-up started to take shape last week, as Whitman created two separation management offices (SMO) with Enterprise Group exec veep Bill Veghte overseeing HPE and Printing & Personal Systems head Dion Weisler preparing for HP Inc.
The SMO is tasked with creating three years of historic financials for each of the different businesses, and to analyse the legal and tax implications - there are 786 legal entities which have to be "looked at and rationalised," said Whitman last night.
She added, "their job is to make sure we have got the right strategy, with the right cost structure as we head into being two separate companies".
Surely HP will be more imaginative than to embark on another headhunt purge? There is no room for sentiment is business, or so hirsute TV personality Alan Sugar always tells prospective candidates on Beeb show The Apprentice.
Of course HP has the back-end functions to consider too, "and that will give us the opportunity to create an IT infrastructure for each company that isn't based on our legacy IT systems and isn't based on a manufacturing system which for so many years it has been".
HP said it is still working through the cost of the separation and will update the market during the Q1 conference call set for next February.
Rivals keep telling us that HP will be internally focused during the conscious uncoupling, but Whitman said its performance in Q4 was evidence this would not be the case.
"We have been able to begin the process with minimal disruption".
R&D spending was up 10 per cent in the most recent fiscal and Whitman talked up the fruits of previous years' investments, with launches including the cloud portfolio Helion, network function virtualisation tech OpenNFV, the HPC Apollo family, and Converged Storage and 3D printing.
"We need to continue to accelerate the pockets of growth that we have. We need to mitigate the declines in some of our businesses, legacy products, whether it'd be tape or others, and we need to continue to double down on the innovation engine," said Whitman.
There are two years left to for Meg and her management team to really nail this. ®
Sponsored: Minds Mastering Machines - Call for papers now open