Forget Hillary, HP's ex CARLY FIORINA 'wants to be next US Prez'
Former CEO has political ambitions again, according to Washington DC sources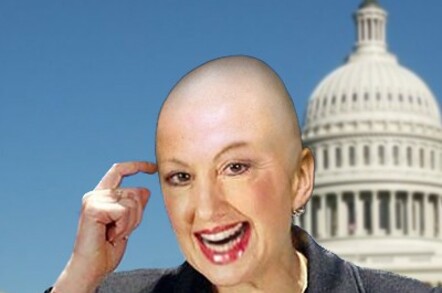 Carly Fiorina – the former HP chief executive who presided over the firm's $24.2bn merger with Compaq – is mulling a run for the US presidency in 2016, Washington insiders claim.
The Washington Post reported on Wednesday that Fiorina has been recruiting campaign staffers and holding private meetings with potential donors, and that she may be planning to kick off a publicity tour to begin in election bellwether states Iowa and New Hampshire as early as next week.
If true, it will be her second run at elected office, having stood for the US Senate in 2010. This time, as before, Fiorina is expected to campaign on her achievements in the private sector, including being the first woman to be named CEO of a Fortune 50 company.
It's likely to be a tough sell. Fiorina's track record as HP's chief exec is hardly a shining example of business success. She resigned from the CEO post in 2005 after clashing with the company's board over "differences about how to execute HP's strategy" – a polite way of saying she was shown the door.
By then, HP's 2002 Compaq gobble – arguably the most significant move of the Fiorina era – was widely perceived to be a blunder. Fiorina signed off on thousands of job cuts, yet HP's dominance of its core markets continued to dwindle, post-merger.
Nonetheless, Fiorina's contentious reign at HP has never stopped her from promoting herself as a leader and role model for would-be business moguls. Unfazed by her detractors, in public appearances she has described the HP-Compaq deal as "the most successful high-tech merger in history."
Tough Choices, her 2006 memoir, spun her days in Palo Alto as a constant struggle against HP's board and small-minded execs who undermined her decisions, while conveniently leaving criticisms of her decision-making unaddressed.
Yet whether even this whitewashed version of her history is grounds enough to give her a serious shot at the Oval Office is debatable. In the 2010 Senate race, Fiorina won the Republican nomination but lost the public vote to Democratic incumbent Barbara Boxer by a ten-point margin.
Moreover, while trumpeting her business bona fides might impress her well-heeled, largely conservative supporters, in a nationwide election she would also need to assuage working-class voters who perceive her as a member of the moneyed elite, buying her way into the race.
Fiorina left HP riding a $40m golden parachute, and for her 2010 campaign she estimated her net worth at between $30m and $120m. Election documents show she put up $5.2m of her own money to fund her Senate bid and invested another $1.5m that she was eventually repaid – yet as of September 2014, her campaign still owed vendors nearly $500,000.
Not that any of this bothers her wealthy friends. The Post reports that Unlocking Potential, Fiorina's new political action committee, has raised $1.7m in less than five months, mostly from individual donors who contributed five or six figures apiece. But a presidential campaign built on gold bricks won't sit well with some US voters, particularly in states hard-hit by the recent financial crises.
Still, in true Fiorina form, HP's former Queen of the Pink Slips hears nothing but the clamoring of her adoring supporters. Asked earlier this month whether she had any plans for a presidential run in 2016, Fiorina told NBC's Meet the Press, "When people keep asking you over and over again, you have to pause and reflect. So I'll pause and reflect at the right time." ®
Sponsored: What next after Netezza?